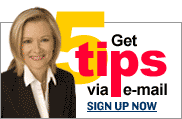 CNN's Gerri Willis shares five tips on ways to rent or borrow before making a purchase.

Play video

NEW YORK (CNN/Money) - The kids want a dog but you are afraid the family can't handle the responsibility. You've got a black-tie affair to attend, but no bling to match your dress. You're looking to buy a new pair of skis before your ski weekend getaway.
These are all big investments, either of time or money. Why commit if you are not completely sure you are ready to make the investment?
Take the option to rent or borrow before you buy. It might be a fun way to try out something beyond your means, or help you make a smarter investment decision. Here are today's top five tips.
1. Try out your getaway.
Just like shopping for a car, you should really go for a real test-drive with a potential vacation home.
Michael Sarka, executive director of the Vacations Rental Managers Association (www.VRMA.com), says, "It's very prudent to rent before you buy so you know exactly what the regulations and restrictions of a community are before you buy a home there." Best-case scenario: you rent or borrow the home you are interested in or at least stay in one nearby to get a preview of the community.
For example, you may have dreamed of a house on Cape Cod ever since your first vacation there. However, you've only ever stayed at a bed & breakfast right on the beach. If you just went ahead and bought a home two miles inland, you might not have realized the nightmare with parking and restrooms at the public beach.
How about this other snafu: residents in quaint second home communities often have to take their trash to the dump themselves, and even sort their recyclables. You might not have seen that coming from your experience at the charming B&B.
Sarka also suggests you check out a potential vacation home or area in the off-season to really know what you're getting into. Maybe the house has horrible heating in the winter or the neighborhood never gets plowed when it snows.
If you fall in love with a place you rented, talk to your rental agent. Sarka says 85 percent of VRMA members are real estate agents too. Many rental properties can easily be sold.
2. Try the gear on for size.
Shopping around for some new skis or golf clubs? Equipment for both of these sports is expensive and often comes with a no-return policy. So before you buy, do your research -- by trying the gear on for size.
The latest ski and golf club technology is not usually at the ski shop at the bottom of the mountain or in the pro shop at the public golf course. But manufacturers do sometimes come to the place you play to offer trials on their latest equipment for free on Demo Days.
Skiers searching for the hottest new sticks from Rossignol and K2: check out their Demo Days, which set you up with experts to talk about the product and then the equipment in your size to try it out. Check out their Web sites for when they'll be at your local mountain: www.Rossignol.com and www.k2skis.com.
Golfers can also take advantage of similar promotions at local golf courses. TaylorMade travels the country to show off its clubs, and you can check out its schedule on their Web site. Callaway will let you play with its clubs for free at its golf center in San Diego, or you can check out their demo tour at a club near you, click here to check out the company's Web site.
Traveling golfers or those who want to mix and match clubs of different brands might check out www.gear-to-go.com. It's a golf club rental service that delivers your clubs right to you. The service offers all the latest irons, woods, putters and more. If you're fairly new to the game, the service can also help you match a set to your skill level.
3. Give yourself a pet trial period.
Always wanted a pet but afraid to commit to buying one? Not only are pets big investments (one estimate says a dog can cost anywhere from $800 to $1500 per year), they can also change your lifestyle.
One St. Louis dog shelter has a solution to see if you and a canine fit together: Stray Rescue rents dogs over the weekends.
Randy Grim, the founder and director of the "Rent-a-Pet" program advises, "If you want a dog but aren't sure if you can handle one financially or emotionally, take one home for a few days to try it out."
To fully disclose, Grim says the idea behind his program is really to promote dog adoption. But, the program is also beneficial to dogs by helping them become more confident around people and learn to live in a real home.
If you live near St. Louis, check out their Web site at www.StrayRescue.org. Or ask your local animal shelter if they have a similar program.
If a dog isn't your thing, how about a cat, a horse, a bird, or even a pig? Thousands of pets are looking for temporary homes while their owners are serving abroad in the military.
You can offer a foster home to a pet for 6 months to a year through the Military Pets Foster Project. The project, which is endorsed by the Department of Defense, popped up after the Gulf War, when many several pets were put to sleep because service men and women had no options for their care.
On the project's Web site, www.NetPets.org, fill out an application including what kind of pet you would like to house, and your pet history, if any. The program's president and founder, Steve Albin, will be happy to match you with a military service man or woman whose pet needs a place to crash for a while.
4. Think red carpet bling.
You're going to see it all over the red carpet this Sunday at the Oscars: Serious Bling. Of course we normal people will be jealous.
Celebs have it made. The country's finest jewelers are scrambling over each other to be the ones to "ice" Kate Hudson, Julia Roberts, and Nicole Kidman for the Hollywood red carpet. Free bling for one night sounds like a dream. Seriously, where is yours?
If you're thinking, "Can I really?!" just hold on. It's not completely easy, but you might be able to pull some strings to borrow some bling for your own special occasion. But, you need to have a close and established relationship with your family jeweler.
Betteridge Jewelers, an estate jeweler that's been in business in Greenwich, Connecticut for three generations, just lent a beautiful diamond necklace to a good client who needed "something appropriate to wear" to a celebrity wedding down in Palm Beach.
However, Randy LaPointe, CEO at Betteridge says, "It's a rare occurrence, but we will do it with some special circumstances."
You might have to arrange to actually buy the piece of jewelry with the "option" to return it as soon as you are done. Or the jeweler may let you just borrow it at no charge.
Either way, they will likely require you to get some short-term insurance. Don't be ashamed, even celebs have to set up the appropriate insurance and sign an agreement with the jeweler.
State Farm Insurance says you can get a piece of jewelry insured by buying a personal articles' floater policy. Since they only sell this policy on an annual basis, you have to pay the full premium up front.
For example, on a $10,000 pair of earrings, State Farm's policy would offer you full-coverage for $178 for a full year. That's less than 50 cents a day. Technically, you can cancel the policy right after your big event. Without a hitch, you can pay less than a dollar for two days of insurance. Wow.
5. Keep up with the Joneses.
Hey, we all want to keep up with the Joneses. Maybe you're dropping thousands of dollars at Home Depot to refurbish your house just as the Joneses did. Now you've got a garage and workbench so packed with do-it-yourself tools you used only once.
Rent them instead and save yourself some serious dough. A $350 chainsaw can cost only $25 a day to rent. An $800 wallpaper steamer also rents for just $25 a day. To find a rental store in your area, check out American Rental Association's link to home improvement rentals.
For the city-dwelling diva trying to keep up with her Jonesie friends, here's one way to stay hip while keeping out of debt: Forget buying the latest handbag, which can be a $4,000 investment and rent it instead.
Bag, Borrow Or Steal offers customers trial periods with bags ranging from Fendi and Michael Kors to Nine West. For a monthly fee, customers can borrow any bag in stock for a fraction of the figure on that bag's price tag. Check out the Web site at www.BagBorrowOrSteal.com.
You can sign up for three different levels of membership: Diva ($99.95/month), Princess ($49.95/month), or Trendsetter ($19.95). Obviously, the more you pay, the better access you have to the really high-fashion handbags.
---
Gerri Willis is a personal finance editor for CNN Business News and the host for Open House. E-mail comments to 5tips@cnn.com.