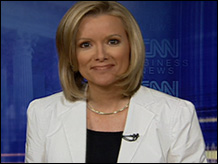 For your next bargain vacation consider some of America's national parks. CNN's Gerri Willis reports.
Play video

NEW YORK (CNN/Money) - Hotel rates are on the rise this summer according to a recent study by consulting company PricewaterhouseCoopers. That's just another reason to skip the room service and polish up those tent poles.
Consider roughing it at some of our country's national parks. Whether it's the star-poked night sky or the gentle crackling of a campfire, there's a lot to love about our national treasures. In fact, 64 million people last year made national parks a vacation destination according to the National Park Service.
In today's 5 Tips we're going to give you a knapsack full of knowledge when it comes to planning your national park getaway.
1. Getting off the beaten track.
Why not stretch your hiking boots further than Yosemite or the Grand Canyon? If you're looking for the road less traveled, check out Grand Teton National Park in Northwestern Wyoming, says Don George, Global Travel Editor of the Lonely Planet Travel Guides.
The central feature of this park is the Teton Range. This is a 40-mile long mountain front, whose eight peaks are over 12,000 feet high. You can also find iridescent blue glacier lakes. For about $20, you can take a tram-like gondola that leaves from Teton Village and takes you to the top of Rendezvous Peak at over 10 thousand feet. Once you're up there, you can always choose to hike down the mountain. The wildlife includes moose, coyotes, bald eagles and bison.
Another hidden national park gem is North Cascades National Park in Washington. Some of the features at this park include jagged peaks, deep valleys, cascading waterfalls and over 700 glaciers. North Cascades has over 386 miles of hiking trails that are designed for avid hikers and for those who prefer easier strolls through nature. George says it is reminiscent of a mini-New Zealand with its lakes and sloping mountains.
For those who prefer ocean views, check out Dry Tortugas National Park in Florida, 70 miles west of Key West. Dry Tortugas is made up of about seven islands. The Tortugas are famous for their coral reefs and marine life. According to the Coalition of National Park Service Retirees, the coral reefs at this park are as close as you can get to a pristine underwater world.
The group notes that a visit to Dry Tortugas can yield the same kind of natural beauty that might otherwise be seen in a visit outside of the United States to the Caribbean or another more remote and expensive vacation spot.
"It's about as special a park as you can find," says Rick Smith, a member of the Coalition of National Park Service Retirees.
2. Stay in the park.
If you're looking for lodging, book directly through the national park service or the lodge itself, advises Pauline Frommer, editor of Pauline Frommer's Travel Guides.
Prices within the park are set for the season. If you stay in a gateway community close to the park, prices could be higher because these communities make a profit on how many people visit the park.
If you scoff at the notion of electricity and plan on tenting it, check out campsite availability at the National Park Service Web site at www.nps.gov. About a year ago national parks began to include the number of campsites available.
If you don't see any availability, don't panic, advises Frommer. Many times parks will put aside a good number of campsites for last-minute campers.
3. Avoid the fees.
If you plan on visiting several national parks this year that have entry fees, think about investing in a $50 Golden Eagle Pass. This pass will give you entry to all national park areas for one year.
A well-known national park like Yosemite or Yellowstone typically carries an entrance fee of $15 dollars. Remember that memorials and historic places like Ellis Island or Gettysburg also count as part of the National Park system. You can get this pass at any national park, or log onto the National Park Service Web site.
Senior citizens over 62 years old and their entire group can get into national parks for free with a Golden Age Passport. This passport has a one-time charge of $10 dollars. Blind and disabled people can also get a Golden Access Pass that works just like the Golden Age Passport.
According to Frommer, the time to go is now. Congress is also considering a bill that will attach standard fees to all federal lands. While this is causing quite a stir, the best thing to do is to take advantage of the parks and properties that don't charge a standard fee -- yet!
4. Forgo crunch time.
The most popular season for our parks lasts from Memorial Day to Labor Day, according to David Barna of the National Park Service. If you don't get to the park between 7:30 am and 9:30 am, you risk not getting a parking spot, he says. By noon, he says, some parks just don't have the capacity to keep up with all the cars.
Also, think about the time of year when you plan your trip. Frommer says if you want to make a national park your summer vacation destination, the best time to take a trip is during the last two weeks in August. The parks are much less crowded because the kids are going back to school and college orientation is beginning. And the best part, she says, is that the weather is still great for hiking and other activities.
If you have a little more flexibility in your vacation schedule, you may want to think about going to a national park during the shoulder season, according to Barna. The shoulder season runs from April to May, and then starts again about 60 days after Labor day in September and October. "During shoulder season, the prices are usually cheaper and there is less traffic," he says.
5. Get in on the perks.
Hiking isn't the only way to get around. For a small fee, you can give yourself a bit of a rest by using the various mass transit options that are available in many national parks.
Barna says that the 80 percent of park visitors come only for the day. This makes mass transit very useful in cutting down the number of cars. The national parks service has created a bus system at Yosemite, rail transportation at the Grand Canyon, and a shuttle system at Zion National. These buses stop at trailheads, overlooks, major attractions and lodges. You may even be able to catch a ride from the gateway community.
And with mom and dad resting their feet a bit, kids can do their own exploring by joining up with a Junior ranger program. Most major parks have these educational programs run by seasonal employees and park rangers.
Kids are given a nature or cultural introduction to the park and may also complete tasks like a scavenger hunt or a nature identification game. At the end of the program, which can last up to two or three hours, the junior ranger gets a certificate and a badge. To find out which parks offer junior ranger program, check out www.nps.gov.
---
Gerri Willis is a personal finance editor for CNN Business News and the host for Open House. E-mail comments to 5tips@cnn.com.