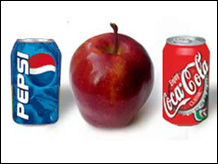 Soda companies are planning on cutting back sales to schools. CNN's Ali Velshi reports. (August 17)
Play video

NEW YORK (CNN/Money) - Preteens have another reason to wish they were older.
Soda marketers plan to limit sales of their drinks in elementary and middle schools, according to a report published Wednesday.
The Wall Street Journal reported that under new industry guidelines, beverage marketers like Coca-Cola (Research) and PepsiCo (Research) plan to eventually stop all sales of carbonated soft drinks in elementary schools and remove sugared drinks from middle schools during school hours.
However, the newspaper said, the new rules only apply to new contracts, not existing ones, which means it could take several years for the restrictions to take effect in several schools.
The school guidelines are part of an effort by soda companies to improve their public image, but the newspaper reported that some critics of the industry wonder how widely the new rules, which aren't mandatory or enforceable, will be observed.
No beverages have been banned from high schools, the newspaper said, although it has been recommended that half of the vending machines in those schools should sell noncarbonated beverages.
The new industry rules will be announced in full-page newspaper ads during the next few days, and they reflect growing pressure from health advocates and parents who blame soft-drink sellers for the rise in obesity among U.S. children, the newspaper said.
According to the report, the guidelines allow all drinks to be sold in middle schools after the school day, while diet sodas, sports drinks, low-calorie juice drinks, juices and water will be permitted to be sold all day.
______________________
Are water and energy drinks the answer to Coke's problems? Click here.
U.S. brands are suffering from an image problem. Click here for more.
Another industry is in need of a facelift. For more, click here.
Do you have nightmare stories about your homeowner's association? Or perhaps you love it? Either way, Money magazine wants to hear your story for an upcoming feature. E-mail yourhome@money.com.