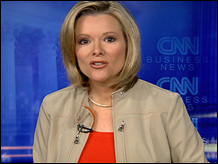 CNN's Gerri Willis shares five tips on how to beat record level gas prices. (August 12)
Play video

NEW YORK (CNN/Money) - Drivers will still own the road this Labor Day, but the increase in car travel from a year ago is expected to be the smallest in about two years as gasoline prices hover near record highs, travel club AAA said Tuesday.
According to the group, 34.5 million people will travel 50 miles or more from home this holiday, up nearly 1 percent from the previous year. This is the smallest expected rise since Memorial Day 2003, when holiday travel began to rebound after the 9/11 attacks and the Iraq invasion, AAA said.
In 2004, Labor Day travel increased 2.4 percent over the previous year. In 2003, the rate of increase was 1.8 percent, the group said.
"Labor Day marks the end of an eventful and surprisingly strong summer travel season," said Robert L. Darbelnet, President and CEO of AAA. "We've seen record-high gas prices, an early start to hurricane season, terror attacks in London, and continued weakness by the dollar, but Americans have traveled nonetheless."
Of the total number of holiday travelers, 28.8 million, or 83 percent, will drive, AAA said. That is on par with the 28.7 million who drove a year ago.
The average price for a gallon of regular unleaded climbed to a new high at $2.614 Monday, according to AAA's daily fuel gauge report, extending more than a week of record-setting gains.
When inflation is taken into account, Monday's AAA record-high price is still below the all-time high set during the Iranian revolution in the early 1980s when gas prices were the equivalent of $3 a gallon.
But prices have jumped above $3 a gallon in some cities and towns, even though the national average price for a gallon of gasoline hovers near $2.60.
The price climb is having an effect, according to a survey conducted by the Polk Center for Automotive Studies, with nearly eight out of 10 people saying high prices are making them think about buying a hybrid vehicle.
More than half of the survey's respondents said high prices at the pump are forcing them to drive less.
"Travel will be up slightly this Labor Day, although the increase is smaller than what we've witnessed the last several holidays. Both record-high gas prices and the increasing number of school systems that start before Labor Day play a part in this lesser increase," Darbelnet said.
Analysts hope that the end of the summer driving season will provide some relief from high gasoline prices, but some believe that we'll see prices as high or higher next summer due to demand increases.
The price of a gallon of gas has jumped more than 20 cents during the past week, nearly the same gain made over the course of the three previous weeks. In the last year, the average price for a gallon of regular unleaded has gained about 73 cents, or almost 39 percent.
Hawaii currently has the highest average price for a gallon of regular unleaded at $2.824, while Utah has the lowest tab at $2.464 per gallon, according to AAA.
___________________
Want to save gas without switching cars? Click here.
Click here for gasoline prices around the globe.
High gas prices may make a blue holiday for shoppers and retailers. Click here for more.
Read why the inflation dragon is back.