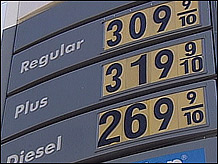 Gas prices are expected to drop, but not immediately. CNN's Bill Tucker reports (September 8)
Play video

NEW YORK (CNN/Money) - Hurricane Katrina shook the business world for the second week, as energy prices remained in the spotlight and aid packages began to unfold.
Here's a roundup of the week's top stories and what savvy investors should consider in the weeks ahead.
Katrina reverberates throughout the economy
A fuller economic impact of the storm emerged, with gas prices only tip of the iceberg.
The Congressional Budget Office said the storm could cost the U.S. over 400,000 jobs and shave up to 1 percent off the nation's economic growth in the second half of the year.
Debate raged over whether Katrina, and the higher energy prices it sparked, will lead to an economic slowdown or rising inflation.
All eyes on energy
Oil prices fell in the first half of the week as a release of petroleum stockpiles eased markets. But crude remained in a narrow range by week's end as concerns mounted over how long it will take to get production back to normal.
A major pipeline supplying refined crude products from the Gulf to the East Coast came back online at full capacity and sent product to all locations along its system.
Nearly half of the refineries fully or partially closed by the storm returned to service.
Gasoline prices began to fall, according to the travel group AAA, marking the first slowdown in over a week despite fears of supply shortages that erupted in the aftermath of Katrina.
Phone hotlines set up to combat price gouging received thousands of calls related to gasoline prices.
The head of the Senate Energy Committee called for a gasoline and oil act to protect citizens from price gouging.
Relief arrives
The Bush administration asked Congress to approve $51.8 billion to pay for the recovery.
The Federal Emergency Management Agency said it would hand out debit cards worth $2,000 each to victims of the storm.
The cost of caring for victims of Hurricane Katrina and rebuilding the areas it wiped out could cost the federal government up to $200 billion, much higher than previous estimates, according to one newspaper.
Consumer advocates called on Congress to postpone implementation of the new bankruptcy law for Katrina victims for a full year, and permanently exempt them from specific provisions in the law as tens of thousands of people face economic ruin.
Corporations contributed millions of dollars in relief aid to help cope with the destruction left by the storm.
Insurance woes
The storm is seen as the costliest disaster ever, with the insurance industry slice of the clean-up bill reaching as much as $50 billion, said some sources.
The federal flood insurance program looked to raise rates nationwide.
Some of Mississippi's casino operators contemplated if they would rebuild after the storm wiped out their operations.