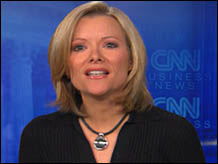 CNN's Gerri Willis shares five tips on how to protect yourself from being underinsured. (Sepetember 22)
Play video

NEW YORK (CNN/Money) - After Hurricane Katrina, many homeowners in the Gulf region are learning the hard way that their homes were underinsured.
Now, as Hurricane Rita heads toward land, many other homeowners are taking a second look at just how protected they'll be from the storm.
In today's top 5 Tips we're going to tell you how you can prevent being underinsured.
1. Understand the lingo
You may have less insurance coverage than you think for the contents of your home. Under the terms of the standard homeowners policy (that's a HO-3 in insurance insider's jargon), you likely have chosen a cash value policy, which means that any settlement you get for damaged furniture, clothes and other household goods will be depreciated for wear and tear.
In other words, you won't have enough money to replace them -- and the difference will come from your pocket. You're better off with replacement cost coverage, which will cover that difference, although it costs about 10 percent more than cash value insurance.
2. Beat inflation
It's estimated that about 60 percent of American homes are undervalued by an average of 22 percent by insurance companies, according to a company that provides building-cost data to the insurance industry. So it's unlikely that you will get the amount you need to rebuild your home.
And what's worse, homeowners have been improving or renovating their homes at a quick pace because of favorable interest rates. You want all your improvements to be covered by insurance, so keep your insurance company up to date on your projects.
Otherwise, you could find yourself underinsured. Check out www.accucoverage.com. This is an online assessment program you can use for about $20. It will give you an assessment of how much your insurance should be increased.
And it's not only major home improvements you have to account for. Don't forget about inflation. The price of lumber increased almost 20 percent last year, according to Linda Jovanelly of Marshall & Swift Boekh. Your insurance company may be automatically adjusting your yearly payments to keep up with inflation.
The insurance industry's inflation guard is tied to a local index that tracks the costs of labor and building materials. You may be paying a few dollars extra on your premium, says Madelyn Flannagan of the Independent Insurance Agents and Brokers of America. You'll have to call your company to find out if this is included in your policy.
3. Protect your valuables
If you have baseball card collections, furs, artwork or jewelry, you'll want to think about getting more insurance. Most homeowner policies have limited coverage for items like jewelry, collections, furs, artwork or antiques. Under a regular homeowners policy, you will only be covered for up to $1500 for jewelry.
If you have expensive or rare items, get them appraised and look into a separate floater policy. You will get the full dollar value of the item or a replacement. Generally floater premiums will be a percentage of the value of the item.
If you have jewelry you keep in a safe deposit box, you'll be able to get a discount on your premium, according to Jeanne Salvatore of the Insurance Information Institute.
4. Get flood insurance
Your home owners policy covers most perils, like fire, theft, tornados and storms. But when it comes to flooding, you're on your own. Remember that 70 percent of Americans live on the coast and may be vulnerable to flooding. In fact, homeowners are 26 times more likely to be affected by a flood than a fire, according to the Independent Insurance Agents and Brokers of America.
The average premium for a flood insurance policy is $400 to $500 a year on $150,0000 to $200,000 worth of insurance. You can only get up to $250,000 for your property, so if you think you'll want more coverage, you can get extra flooding insurance through private companies like the American International Group where you can insure your house up to $1 million.
To assess your risk, check out the National Flood Insurance Program's Web site at www.floodsmart.gov or call (888) 379-9531. There is a 30-day waiting period before your coverage takes effect.
And flood insurance specifically covers rising waters from outside of your home. So damage brought about by a broken water pipe or sewage backup won't be covered.
5. Anticipate rate hikes
No matter how prepared you are, it's likely that your insurance premiums are going to rise. After Hurricane Andrew, homeowners insurance rates increased 100 percent statewide and 200 percent in southeast Florida, where insurers faced the largest potential losses from a major storm, according to Rob Haines, who covers insurance for the debt analysis firm CreditSights. Flood insurance premiums also rose up to 6 percent nationwide after Hurricane Andrew.
"I don't know how this program that's run by the government can bear the brunt of this burden," says Susan Nester of the IIAB.
---
Gerri Willis is a personal finance editor for CNN Business News and the host for Open House. E-mail comments to 5tips@cnn.com.