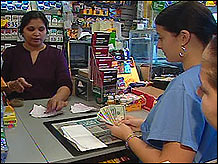 Greenwich, Connecticut, residents believe they can win $340 million Powerball jackpot. CNN's Allan Chernoff reports.
Play video

NEW YORK (CNN/Money) - Wednesday's Powerball drawing could produce the largest lottery prize in history, a record jackpot of $340 million.
No one took home the top prize in last Saturday's drawing, although lesser prize winnings totaled nearly $20 million.
The lack of a grand prize winner pushed the potential jackpot for this week's game past the previous record, $315 million in 2002 won by Jack Whitaker of Scott Depot, West Virginia. Whenever the jackpot reaches a record level, the prize amount for each draw can increase by no more than $25 million. Any extra funds generated by lottery sales goes into the next jackpot.
And lottery officials expect a frenzy of ticket buying between now and Wednesday. Twenty-seven states, the District of Columbia, and the U.S. Virgin Islands all participate in Powerball.
The odds against matching five numbered balls (out of 55) and one red ball (out of 42) to win the grand prize add up to one in 146,107,962. Second-place money, which requires matching five white balls, is $200,000 and entrants have a one in 3,563,609 chance to win. Matching four whites and the red wins $10,000 and the odds are 584,432 to one.
This year's previous biggest Powerball winner is Brad Duke of Star, Idaho who won more than $125 million in May.
Winners have a few options when they claim their prizes. For that story, click here.
Don't get caught in a lottery scam. Click here for more.