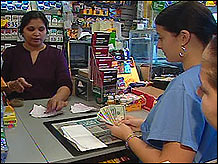 Greenwich, Connecticut, residents believe they can win $340 million Powerball jackpot. CNN's Allan Chernoff reports.
Play video

NEW YORK (CNN/Money) - A record $340 million Powerball jackpot has sent ticket sales for the multi-state lottery soaring.
Tonight's drawing could, if there's only one winning ticket, produce the largest prize in lottery history.
The $340 million grand prize can be taken either as a lump sum payment of $164.4 million or as 30 annual payments of more than $10 million each.
That kind of money fuels extraordinary interest among lottery players. In Arizona, according to lottery spokeswoman Kevan Kaighn, sales jumped from $4.5 million for last Wednesday's drawing, when the jackpot was a mere $240 million, to $6.4 million for last Saturday's game, when the jackpot climbed over $300 million.
Through Monday, Arizona's sales for tonight's drawing totaled $1.8 million. "But sales always take off the last couple of days before the drawing," says Kaighn.
Hitting the road
The huge potential payoff has put people on the road as residents of non-Powerball states travel to neighboring states to buy their tickets. "There's been quite a bit of cross-border traffic from Massachusetts," says Rick Wisler, the New Hampshire Lottery commissioner.
He reports that last week at this time, New Hampshire had sold $500,000 worth of tickets. That figure has quadrupled with more than $2 million in sales.
Missouri draws lottery players from several surrounding states, including Arkansas, Illinois, and Oklahoma, that do not have Powerball. Missouri state lottery spokesman Gary Gonder says this particular jackpot is producing excellent, but not record, sales in his state.
"We used to get a lot of customers driving in from Tennessee," says Gonder, "but they have Powerball there now, so we're no longer getting that business. Also, with gasoline prices so high, people are not driving as much."
Still Missouri typically has about $2 million in sales for a Powerball drawing, he says. This week's total had hit $3.6 million as of last night and was running at more than twice the pace of last week's sales.
The big drawing takes place at 10:59 Eastern time tonight. For information on where it can be viewed go to powerball.com.
The complete list of Powerball locales includes: Arizona, Colorado, Connecticut, District of Columbia, Delaware, Idaho, Indiana, Iowa, Kansas, Kentucky, Louisiana, Maine, Minnesota, Missouri, Montana, Nebraska, New Mexico, New Hampshire, North Dakota, Oregon, Pennsylvania, Rhode Island, South Carolina, South Dakota, Tennessee, Vermont, Wisconsin, West Virginia, and the U.S. Virgin Islands.
_______________
Big payoffs bring out scam artists. For more on that story, click here.
In what form should you claim lottery winnings? For that story, click here.