Prices, where to from here?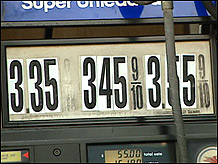 Republicans say it's time oil companies put their profits to good use. CNN's Christine Romans reports (October 26)
Play video

NEW YORK (CNN/Money) - Maybe you grinned a little more last summer knowing your car was diesel-powered after seeing other drivers scowling over rising gas prices.
Now, the tables have turned: Diesel prices are near record highs while regular unleaded prices continue to creep lower.
Retail diesel prices are up about 44 percent from last year, according to AAA. By comparison, regular unleaded gas prices are up 27 percent over the same time period.
Damage from hurricanes Katrina and Rita and high crude oil prices have lifted prices of both kinds of gas.
But diesel is also being affected by strong worldwide demand from such big diesel consumers as Europe, said Jonathan Cogan, an energy information specialist at the Department of Energy's Energy Information Administration (EIA).
At the same time, helpful shipments of regular gasoline from other countries that were so forthcoming following the hurricanes never materialized for diesel.
"We haven't seen the same sort of safety valve for diesel as for gas," said Cogan.
The EIA forecasts that in 2006, diesel fuel will cost 13 cents more per gallon than regular gas.
Driving forward with diesel
So just how many diesel drivers are getting squeezed right now by high prices?
According to market-research firm J.D. Power and Associates, only 3 percent of all the cars and light trucks on the road in the United States are diesel powered.
For diesel devotees, the allure has been that it has been cheaper than gasoline in recent years and diesel-powered cars are more fuel efficient.
The energy advocacy group Diesel Technology Forum says that, in general, diesel-powered vehicles tend to be 20 percent to 40 percent more efficient than the identical gasoline car.
That efficiency could be enough to offset higher diesel prices, according to a computer model at the government fuel efficiency Web site www.Fueleconomy.gov.
Take a comparison of two 2006 Volkswagen Golfs: one diesel, one gasoline powered, both manual and same engine size.
Fuel for a diesel-powerd car would cost you about $970 a year versus $1,360 for the gasoline-powered model, assuming 15,000 miles of driving.
The difference in savings between gas and diesel-powered SUVs however, would be less.
But before you get down on gasoline, some economists warn that gas drivers might also get pinched by higher diesel prices even if your car is gas powered.
Marisa DiNatale, an economist at Economy.com, who covers the transportation sector, says that high diesel prices have weighed on the trucking industry, who may have to pass higher fuel costs onto all consumers.
"I think it will eventually have to be passed onto consumers since we're starting to see the margins of transportation companies starting to suffer -- I think we will see it passed on even though it hasn't shown up in the data, " said DiNatale, referring to the recent Consumer Price Index report, which measures inflation in consumer goods.
For those that are stuck with their diesel-powered 2006 Hummer H1 Alpha or Dodge Ram 2500, Tom Kloza, an energy analyst with Oil Price Information Service in Wall, N.J., predicts diesel prices to moderate in the next 40 days, although he doesn't discount the possibility of another jump in prices after Christmas.
"It's possible between Christmas Day and President's Day, we'll see a super spike for diesel," he said.
After February, he said he couldn't be sure what would happen to the cost of diesel.
"After that then we'll be talking about gasoline prices."
________________
Are hybrids worth the hype? Click here.
Click here for CNN/Money's special report 'Oil Crunch 2005'.