The Austin Board of Realtors has agreed to end policy that blocks MLS access to discounters.
NEW YORK (CNNMoney.com) -- The Federal Trade Commission (FTC) said Thursday that the Austin Board of Realtors agreed to end a policy the FTC claims violates anti-trust laws and harms consumers by inflating costs.
The policy, began in February 2005, blocks some discount brokers from posting their listings on public Web sites, according to Patrick Roach, of the FTC's Bureau of Competition.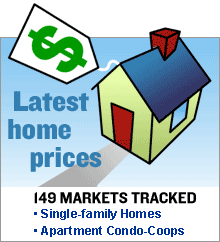 Under the policy, only brokers who use "exclusive-right-to-sell" contracts - which provide a suite of services and usually specify a commission rate of about 6 percent - could have their properties shown on the the public sites of listings generated from the multiple listing service (MLS).
The MLS is a database of properties for sale put together by local real estate brokers. Normally, all the homes on the MLS are also available for viewing at sites such as Realtor.com and, in this case, AustinHomeSearch.com.
But the rule in Austin did not allow the listings of discounters who use "exclusive agency agreements" to be shown on the public sites. In these kinds of contracts home sellers pay only for the "unbundled" services they request. For example, sellers may want to show the properties themselves, paying a broker only to advertise, to complete paperwork or simply to post on the MLS.
"[Austin Realtors] Web site rules create significant roadblocks for real estate brokers to offer consumers alternatives to full-service brokerage agreements," said Jeffrey Schmidt, Director of the FTC's Bureau of Competition in a written statement. "The Commission is not saying that one form of brokerage agreement is better than another. We are saying that the consumer should be able to decide."
"The MLSs are enormously useful and beneficial," says Roach, "but they are put together by a group of professionals who are competitors and the MLS is sometimes subject to misuse."
ABoR supported the FTC decision in a press release, which quoted David Foster, its president and CEO, saying, "We feel the approach outlined in the FTC ruling is correct."
According to Foster, however, ABoR had already rescinded the rule back in August of 2005 and the FTC release misrepresented the purpose of the rule, which, he says, "was initially established to ensure that our consumer Web site was used to promote listings to benefit members."
How the MLS works
MLSs make the real estate business more efficient by promoting cooperation between brokers and maximizing exposure for properties on sale. If brokers only sold the homes of clients to their other clients, the base of potential buyers would be much smaller.
Full-service brokers, critics charge, have been trying to keep fee-for-service brokers out of the action. Some of the tactics employed include not showing the discount brokers' listings to their buyers and refusing to show buyers represented by these brokers the listings the full-service brokers represent. That refusal to show listings, in the Austin case, even included completely barring the listings from ABoR web site.
Full-service brokers have also gotten state real estate commissions to prohibit rebates or to mandate minimum service requirements. These all make it harder for discount brokers to operate.
Meanwhile, the Internet has taken over many of the jobs full-service brokers once exclusively provided. As a result, consumer groups wonder why the fees incurred when selling a house have not moderated.
The typical commission paid on a median house sale has reached more than $13,000 up from less than $9,000 less than five years ago. The cost of selling a house has risen far faster than inflation.
Contrast that with fully Internet-enabled brokerage businesses such as stock sales, the cost of which dropped precipitously after being marketed on-line.
The FTC action taken Thursday is part of a string of judgments and consent agreements it and the Department of Justice have wrung from realtors in recent years. These include decisions by some state commissions to end full-service requirements and rebate prohibitions.
Some states and cities still maintain those provisions. The FTC said Thursday they are continuing to investigate other cases.
"It's plain that anti-trust laws do not allow a group of competitors to get together and do anything they want to do," says Roach.