After cashing out at last year's peak, insiders at nation's leading homebuilders are not selling their shares in the face of a steep decline.
NEW YORK (CNNMoney.com) -- Top executives at the nation's major publicly traded homebuilders are showing some faith in their own battered stocks.
A year ago, with the real estate market booming and stocks at or near all-time highs, executives at the 12 major homebuilders were quick to cash out, selling just over 6.5 million shares of their stock as a group, pocketing just over $500 million in proceeds.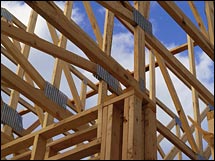 Stocks have dropped considerably since then - between 25 and 50 percent from year-ago levels. But homebuilder executives have held onto their shares this summer, while their value has continued to fall - 10 to 25 percent since late May. (Only Centex Corp. (Charts) shares have avoided significant declines over the last three months.)
The only sales by a homebuilder insider reported to the Securities and Exchange Commission this summer are of 100,000 shares by Ryland Group (Charts) CEO Chad Dreier in July for $3.6 million, right after he exercised an option for the same number of shares, and of 22,857 shares by Lennar (Charts) vice president David McCain for just under $1 million. (see correction)
A company spokeswoman for Ryland said Dreier's sale was part of a regular program, the timing and amounts of which were set years ago.
By comparison, executives at Toll Brothers (Charts) led the way in the year-ago selling binge, cashing out 3.4 million shares for about $265 million between June 16 and July 25, 2005.
The sector has been battered this summer by cancelled orders for new homes, and swelling inventory. The building boom of 2005 spurred a surge of building and a record number of investors buying homes. Those investors are now putting the homes on the market, driving down prices and builder profits and sales outlook.
Declines have stopped other cash-outs
Jonathan Moreland, director of research at InsiderInsights.com, a service that tracks insider stock activity, said the lack of sales could be a sign that the executives believe the downturn will be relatively short-lived.
"Everyone likes to compare the homebuilding to the Internet bubble," said Moreland. "But this is unlike that bubble, where in 2001 and 2002, I was seeing continued massive insider selling at a lot of these Internet companies, even when their stocks were 40, 50, even 60 percent off their highs."
Still Moreland said it's too soon to say that homebuilder executives have confidence that their stocks, and the home-building market, have bottomed out.
"You're not going to get me to call a bottom or read an insider's mind," he said. "This definitely tells me insiders are relative more bullish than a lot of investors in these stocks. But that being said, we're not seeing any buying. If they really wanted to show the faith, they could be buying shares."
Alex Barron, an analyst who follows builders' stocks for JMP Securities, said he also thinks the stocks have more losses ahead of them before they start a relatively slow recovery.
"I think the stocks are nearing a bottom, but they'll probably go down another 20 percent more before they really bottom out," said Barron. "And I suspect they'll tread water for a year or so before we start to see any significant gains."
As to the lack of insider sales, Barron said he believes the executives have enough cash from last summer's cash-out that they don't need to sell at depressed prices.
"I would take (the lack of sales) as the fact they don't want to send the signal to Wall Street that they're willing to sell at these values," he said, as he pointed out much of the sector is near book value, a price that compares assets and liabilities on the company's balance sheet to the number of shares outstanding.
"They've been saying for years that they should be selling at a premium to book value. How would it look if they sold for book value now?" he said.
Most of the companies did not return calls or e-mails asking for comments on the stock-trading activity of their executives. One that did call back was Meritage Home Corp., (Charts) which had seen relatively modest sales by its executives a year ago - a total of 17,500 shares for $1.3 million in June and July of 2005.
"I can't speak for the individual decisions," said Brent Anderson, director of investor relations for Meritage. "All I can say is they're individual investors as well as company executives. They follow the same patterns, try to sell when it's higher and don't sell when it's lower."
Meritage has been buying its own shares through a stock repurchase plan. Company executives authorized a $100 million share repurchase in February, and used about two-thirds of that authorization to buy shares at an average price of $54.68 a share. Shares were trading about 25 percent below that purchase price Wednesday.
Still that drop in stock price didn't dissuade the Meritage board, which authorized another $100 million share repurchase plan in August.
Correction: An earlier version of this article incorrectly stated the number of shares sold by Ryland CEO Chad Dreier and missed the sale by Lennar VP David McCain. CNNMoney.com regrets the errors. Return to story.
More news on real estate and what it means to you and the markets.