NEW YORK (CNNMoney.com) -- The housing market is in transition. Not too long ago, homes were selling like hotcakes. But today, with housing sales slower... sellers are holding onto property that's harder to unload.
We'll tell you what the smart moves are now if you're a buyer or a seller in this market.
1: Buyers, take your pick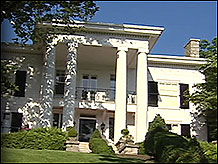 CNN's Gerri Willis offers some smart moves in real estate investing. (November 9)
Play video

The world is your oyster. Unlike two or three years ago, buyers can afford to be choosy. So work your leverage. You'll likely be able to get a large discount in the asking price, says real estate attorney Neil Garfinkel.
As a buyer you'll also have more negotiating power if you want the roof fixed, or new windows installed before you go to contract. In some cases you may even be able to get the seller to pay part or all of your closing costs.
2: Keep it real
If you are looking to sell your home, you really have to be realistic about the marketplace. That doesn't mean you need to sell at a loss, necessarily, but pricing your home correctly will be one of the most important factors to selling your home.
Snoop around and find out what your neighbors are offering. Get a sense of what other buyers are seeing. Often sellers will ask for 10-20% more than what they expect to get, says Mario Villena of Homekeys.net, but it's more realistic to price your home at just 3-5% above what you're willing to accept.
Make sure you make as many repairs as you can. A would-be buyer may be turned off if there are obvious fixes. You want to make it as easy as possible for them to just say yes.
And of course, you can throw in some extra goodies for buyers too - we're not talking Mercedes Benz' thrown in for good measure - but maybe you can be more flexible on the move-in date or helping out with moving expenses.
3: Don't over-invest
Since prices are leveling off in some areas, the last thing you want to do is spend a fortune in home renovations. Buyers don't want to spend more money on a property where neighboring property values are less. The return on investment is not dollar for dollar on renovations, says Greg McBride of Bankrate.com.
Instead, do the little things, like putting a fresh coat of paint on the walls or trimming back the outside hedges. Even getting a new doorknob can make a difference, according to McBride. Of course doing a minor kitchen or bathroom remodel is one thing, but installing a bowling alley for junior in the basement is quite another.
4: Be smart about equity
A recent survey by Countrywide Home found that less than half of homeowners wouldn't consider tapping their homes for money. That's smart in this kind of housing environment.
If you're worried about the market, you don't want to be using your home as an ATM. If you borrow equity from your home and there is a price decline, you're putting yourself deeper into debt. It's dangerous to have all your wealth tied up in your home, says McBride. When times are bad, that equity safe can shrink.
--------------------------------------------------------------
Gerri's Mailbox: Got questions about your money? We want to hear them! Send e-mails to toptips@cnn.com or click here - each week, we'll answer questions on CNN, Headline News and CNNMoney.com.