NEW YORK (CNNMoney.com) -- New housing starts sank to the lowest level in more than six years in October and a key measure of builders' confidence in the market hit a nine-year low, a government report showed Friday.
Both housing starts and applications for new building permits tumbled well below Wall Street forecasts - a sign that the slumping housing market has not yet hit bottom.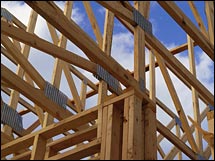 "Today's figures clearly reveal that a quick turnaround in this sector is not just around the corner," said Anthony Chan, chief economist for JPMorgan Chase Private Client Services. "Any real turnaround may not be forthcoming until the central bank reverses course and begins to lower short-term rates again."
Housing starts plunged nearly 15 percent to a seasonally adjusted annual rate of 1.49 million in October from a revised 1.74 million in September, according to the Census Bureau report. That was the lowest reading since July 2000.
The pace of single family housing starts in October was down nearly 32 percent from the year-ago period when the home building boom was still roaring forward.
Building permits, seen as a measure of builder confidence in the real estate market, fell to the their lowest pace since December 1997, coming in at 1.54 million, down from 1.64 million in September. Permits for single family homes are also off 32 percent from the year-ago levels.
Economists surveyed by Briefing.com forecast that starts would fall to an annual rate of 1.68 million and permits to 1.625 million.
"Housing starts reported this morning was a shocker," said Phillip Neuhart, an economist with Wachovia. "The South - the strongest home building region during the recent housing boom - had by far the weakest month of any."
In some ways the slowdown in starts and permits is a positive for the housing market, since it will reduce the inventory of homes on the market, which as been depressing prices for both new and existing homes.
"I view the decline in starts as a healthy development," said David Seiders, chief economist for the National Association of Home Builders (NAHB). "We know that inventory is too high, so the faster we get back in balance, the better."
Seiders said his projection is for starts to average about this current 1.5 million pace through the first half of 2007, and that that means there will likely be months below even the current level of building. But Neuhart said as inventory-induced slowdown is likely to depress the gross domestic product, the broad measure of the nation's economic activity, throughout all of 2007.
"We do not see healthy inventory levels being reached until at least the second quarter of next year," said Neuhart.
Another sign of weakness in the housing market came when a realty tracking firm reported Friday that home foreclosures rose once again in October, climbing 42 percent from year-earlier levels.
Still, before Friday's report, there had been hopes from other recent real estate reports that perhaps the slump in home sales and home building had bottomed out.
The NAHB's survey of builder confidence for November posted a modest increase for the second month, even though far more builders still saw the market as poor rather than good. And housing starts rose in September, although permits fell.
In addition, mortgage rates fell sharply this week, with the average 30-year fixed rate mortgage dropping to 6.24 percent from 6.33 percent a week earlier, according to mortgage financier Freddie Mac. Mortgage applications climbed to their highest level since January in the most recent weekly reading from the Mortgage Bankers Association.
But other reports have showed weakness in prices for both new and existing homes, as inventories of both types of homes available for sale climbed to record levels. And home builders have reported having to offer attractive deals to move homes they have completed.
Major home builders have been reporting lower earnings and cutting forecasts for future results due to the downturn in new home sales.
Pulte Home (Charts), the nation's largest home builder, became the latest to report a steeper-than expected drop in earnings earlier this week, and cut its outlook.
"You can count us among the companies that would like to see this be the beginning of a more stable operating environment," said Pulte CEO Richard Dugas, after he cited some of the hopeful signs of improvement in the housing market during his call with investors following Pulte's earnings report. "But for now we will wait for the trends to continue and to broaden before we conclude that the bottom is being reached."
He said that it was important that Pulte and other builders cut back on housing starts, especially so called "spec homes" that are begun without a sales contract in hand.
"There is no need for us to aggravate existing market difficulties by throwing unnecessary supply into the market," he said.
Other home buildings reporting problems reduced earnings and or sales outlooks include Centex (Charts), D.R. Horton (Charts), Lennar (Charts), K.B. Home (Charts) and Toll Brothers (Charts).
Builders to buyers: Take this house, please!
October foreclosures jump 42 percent