(Business 2.0 Magazine) -- Agency creatives enjoyed immense power during the go-go 1990s, but their clients' accountants stole much of it back after the tech bust and as ad spending has continued to flatten.
Almost all clients now use hourly time sheets to pay their agencies, a practice that has led to overbilling scandals and has fueled distrust.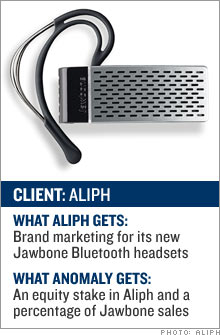 When he founded Anomaly in 2004, Johnson dumped time sheets altogether; he negotiates up-front fees or asks for a percentage of sales or equity. Count Coca-Cola (Charts), an infamously mercurial ad client, as a fan of the new model. Anomaly has already created new packaging for the company's Dasani water brand and helped launch Enviga, its new "calorie-burning" tea.
Johnson negotiates a monthly fee based on the scope of the project. "We get more for our money by structuring the deals this way," says Jason Warner, marketing director for Beverage Partners Worldwide, a Coke and Nestlť joint venture. "If we did time sheets, we'd be paying a lot more. We get a better deal by having a fixed fee. And they get security with a set check every month."
Then there's Aliph, maker of the Jawbone, the new noise-canceling Bluetooth headset. Aliph recently hired Anomaly to do all of its brand marketing, including print, TV, and online ads. Anomaly won't get a cent in traditional fees; instead it will take a small equity stake in Aliph and a small cut of Jawbone sales.
"You can pay millions to big agencies and get total crap," explains Aliph CEO Hosain Rahman. "Agencies have no incentive to produce amazing results, so they'll extend the project as long as possible because it's all billable hours. But Anomaly has an incentive to do great work. They have the same skin in the game that we do."
Back to main story.
____________________________________________
More from the latest issue of Business 2.0 Magazine:
101 Dumbest Moments in Business
A new Rx for the body: implantable devices
Cell-phone giants start courting coders

To send a letter to the editor about this story,
click here
.