(Business 2.0 Magazine) -- According to market research firm Informa Telecoms & Media, companies will spend more than $11 billion by 2011 to advertise on mobile phones.
That's one reason Johnson's staff includes a team of six mobile-technology specialists and software developers. While they have already launched a series of mobile ads for Nike (Charts) and ESPN, Johnson has bigger ambitions for the third screen.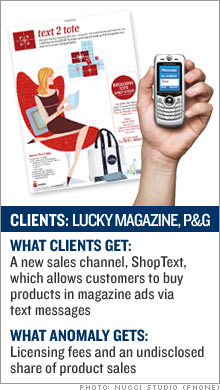 Anomaly recently launched the first shopping platform enabling consumers to buy products via text messaging. It got the attention of PayPal, which linked up with Anomaly to launch its text-to-buy service.
Anomaly has since created a more advanced version: ShopText, which allows U.S. mobile-phone customers who come across a magazine ad to text-message a number to buy the product instantly, usually in return for a big discount.
Since ShopText launched in September, ads placed in Lucky and Cosmo Girl have generated more than 1,000 transactions for products from Procter & Gamble (Charts) and others.
Anomaly won't disclose revenue figures but says it receives a licensing fee and takes a small cut of each sale. "A shift is occurring in the overall adoption of texting," says Ed Kountz, JupiterResearch senior analyst for payments. "It's got the potential to take off."
Back to main story.
____________________________________________
More from the latest issue of Business 2.0 Magazine:
101 Dumbest Moments in Business
A new Rx for the body: implantable devices
Cell-phone giants start courting coders

To send a letter to the editor about this story,
click here
.