NEW YORK (CNNMoney.com) -- Billionaire investor Carl Icahn is feeling the love for the nation's largest department chain operator Federated Department Stores.
He's so enamored with the parent company of Macy's and Bloomingdale's that he's tripled his stake in Federated (Charts) to 6.8 million shares at the end of last year, according to details of a regulatory filing Wednesday by his investment firm Icahn Management.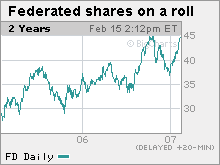 That amounts to about $302 million, or 1.3 percent of Federated's shares outstanding. Icahn's firm is now the 16th largest investor in the company.
Icahn is a renowned corporate raider and, lately, shareholder activist. When he takes or increases an ownership position in a company, it can mean ominous things. The most recent example took place a year ago. Icahn tried to take over control of media giant Time Warner (Charts), the parent company of CNNMoney.com. He didn't succeed but he did win some concessions from Time Warner as part of a settlement to end his quest.
But if investors were thrilled or chilled by the corporate/shareholder activist's move on Federated, it didn't show. Federated shares hardly moved on the news and were just fractionally higher Thursday.
"Maybe Icahn sees Federated as just a good investment story," said Kim Picciola, analyst with Morningstar. "Federated has become the comeback story of mid-tier department store retailing. Icahn probably realizes that there is more room to grow for margins and sales."
"Icahn is a smart guy. He sees a big upside to Federated's business," said Matthew Katz, managing director with Alix Partners, a corporate turnaround and restructuring advisory firm. "Icahn's increased stake in the company is a statement that says he is enjoying the stock rise and he wants to participate in it."
And the department store chain is on a roll.
Federated CEO Terry Lundgren has gotten praise for orchestrating a complicated but very tactical merger with May Department Stores. It allowed him to convert May stores into Macy's, thereby expanding the retailer's presence in more markets nationwide.
Wall Street has rewarded Lundgren's efforts by pushing the stock up more than 26 percent over the past 12 months. Federated's delivered decent sales during the crucial holiday season, which experts attribute to Lundgren's efforts to improve merchandise, remove store clutter and deliver a unified branding message for Macy's.
Indeed, last September Icahn notified Federated about his intention to buy another $113 million to $500 million worth of shares in the retailer.
"Federated has a plan in place and they are executing it well. They're continuing to leverage a national brand, drive synergies and achieve cost savings through the integration with May," Katz said. "Wall Street perhaps wants the plan to go faster but whenever you put two incredibly large companies together, you have to march to a pace that delivers performance."
A land grab?
Burt Flickinger, marketing director with consulting firm Strategic Resource Group, pointed out another attractive aspect of Federated - it's real estate value.
According to the retailer's last annual report, Federated owns half of its 868 stores. So could Icahn potentially be copying Eddie Lampert's strategy following the Kmart-Sears, whereby Lampert sold off Kmart real estate to unlock the value and make other investments?
Flickinger said Icahn could certainly do that if he wanted to, adding that Icahn could bring in leading retail real restate investment trusts, or REITs, like Kimco or Vornado and monetize the real estate assets by doing lease backs while still keeping the stores fully operational.
Whatever Icahn's intentions really are, Flickinger said his timing with Federated is "impeccable."
"Federated's sales, shares and operating income are depressed. The company has better part of a year behind it with the May conversion into Macy's. It has one of the best merchants in the business as its CEO and a brilliant CFO in Karen Hoguet," he said.
"Icahn knows he'll get far better returns with Federated than with Time Warner and he's wisely moved his investment money away from Time Warner," Flickinger said. (CNNMoney.com is a unit of Time Warner.)
Federated Department Stores and Icahn Management could not immediately be reached for comment.
Buffett's Berkshire buys chunk of U.S. Bancorp
Icahn cuts Time Warner holdings