(NEW YORK) CNNMoney.com -- Drugmaker Abbott Laboratories released positive results of a study of its new drug-coated stent Xience, bringing it one step closer to FDA approval, the Wall Street Journal reported Saturday.
The trial proved that Xience was more effective than Boston Scientific's Taxus, the current top-selling stent on the $3 billion U.S. market. Xience is currently available in Europe and parts of Asia.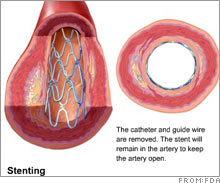 Stents are used to open clogged arteries in heart disease patients. Xience is a more advanced, drug and polymer-coated version of Abbott's earlier model of a stent called Vision, the market leader for bare metal stents.
Drug-coated stents have been the subject of controversy lately, after they were found to cause blood clots for unknown reasons.
Based upon the positive outcome of the trial, the company plans to file with the FDA in the second quarter of 2007, and if approved, could begin selling as early as 2008, the Journal reported.
Boston Scientific (Charts) has the right to sell a version of Xience because of an agreement that resulted from Boston's acquisition of Guidant Corp. in 2006.
Abbott Laboratories (Charts) is the No. 3 U.S. drugmaker behind Pfizer (Charts) and Johnson & Johnson (Charts).
Drug-coated stent market stalls