(Money Magazine) -- Shares of beverage companies have always ranked high among the market's safe havens in uncertain times. Even when consumer incomes are stretched thin, sales of beer and soda don't suffer much.
Analysts currently recommend both Coca-Cola and PepsiCo, not only as defensive choices but also because they look attractively priced. PepsiCo has long been a top pick. What's more surprising is that Coca-Cola looks like a buy for the first time in a decade.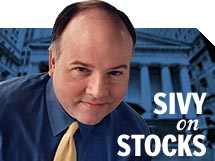 Coca-Cola (Charts, Fortune 500) may well be the best brand name in the world. In the 1980s and early 1990s, CEO Roberto Goizueta built an international expansion strategy around that central brand. PepsiCo (Charts, Fortune 500) had earlier diversified into snack foods like Fritos and Lay's potato chips and focused more on domestic sales.
At first it looked as if Coke's strategy would be more successful, and the stock's price/earnings ratio topped 40, an awfully high number. But Coke's approach had its limits, while Pepsi just kept on selling chips.
The result: the P/E of Coke stock steadily deflated, while PepsiCo shares marched on to more and more success.
Fighting flat sales
Coke was also hurt by Goizueta's sudden death in 1997. His successors seemed unable to find another approach that would prepare Coca-Cola for the 21st century. In 2004, however, Neville Isdell took over as CEO and swiftly began diversifying the company's beverage lines.
Today, Coca-Cola sells more than 400 brands in 200 countries. The strategy has greatly improved Coke's competitive position, but the share price doesn't reflect that. Coke stock currently trades at less than 19 times earnings, slightly below Pepsi's P/E. The irony is that PepsiCo may now have the bigger problems.
The industry faces two challenges in the coming decade. The first is slower domestic growth. In both 2005 and 2006, sales by volume in the United States declined slightly, after years of growth averaging 3 percent annually.
The second challenge is that greater concerns about obesity, diabetes and general diet have focused attention on the potentially negative health effects of highly sweetened sodas, as well as salty and fried snack foods.
More bubbly markets
There are three ways Coke and Pepsi can maintain superior growth. The first is to expand internationally where sales of soda are still growing, especially in Brazil, China and Russia. By this measure, Coke is far better positioned. Last year it got 66 percent of its sales overseas, while Pepsi managed only 37 percent.
A second approach is to play to health concerns by introducing carbonated beverages with little or no sugar. Coke has scored a big hit with Coke Zero, launched in 2005. The soda contains no sugar and less than one calorie yet tastes more like the original Coke than other diet versions do. So far, it's a great success, with volume growth in the double digits.
The third strategy is to expand into noncarbonated beverages, which both companies have done. Pepsi has Gatorade and Tropicana. Coke has Minute Maid and Dasani bottled water. But Coke is also acquiring a host of specialty brands that appeal to younger, trendier consumers. Most recently Coke bought Fuze, a maker of juices and teas infused with vitamins, and Brazil's Leăo Júnior, a tea bottler.
Why Coke is it
Over the next decade Coke's global reach should give it the edge in the regions that offer the greatest growth. Moreover, Pepsi's success with snack foods may prove harder to maintain as consumers worry more about salt and fats.
None of this means PepsiCo is a bad stock. But its strengths are widely recognized, while Coca-Cola's prospects get little recognition. In fact, analysts still project lackluster earnings growth for Coca-Cola, despite the company's recent successes.
As a result, Coke's shares yield nearly a percentage point more than PepsiCo's and trade at a lower P/E. Either company makes sense as a defensive pick. But I figure that the stock Wall Street is underestimating today is the one you want to own for tomorrow.