NEW YORK (CNNMoney.com) -- Americans' spending kept growing at a healthy pace in March and February, as the latest government reading on retail sales shows showed consumers once again bucking forecasts of a slowdown in their buying habits.
Consumer sales rose by 0.7 percent in March, up from a 0.5 percent gain in February, which was revised sharply higher in the Census Bureau report. Economists surveyed by Briefing.com had forecast a 0.4 percent rise in March.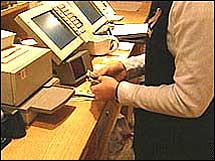 Spending on goods other than autos increased by 0.8 percent, compared to a 0.4 percent increase in February. The February reading was revised up from a 0.1 percent decline in the earlier reading. Economists had been looking for the key sales measure to increase 0.7 percent.
Wachovia economist Gina Martin said the readings, especially the February revisions, are another sign that consumer spending contines to overcome obstacles, such as the decline in home values and rising problems of mortgage defaults and delinquencies in the subprime sector.
"I think that's a testament to very steady job growth," she said. "We have to accept the fact that as long as consumers are getting a paycheck, they will spend money."
That said, Martin is convinced that the April numbers will show a decline in spending, due to a combination of the early Easter and the bad weather over much of the country so far this month.
"No one is out there buying spring apparel," she said.
Among the different sectors, building supplies and garden equipment retailers posted a surprising 1.4 percent seasonally-adjusted jump in March sales compared to February, despite widespread evidence of a slowdown in home building.
Drew Matus, senior economist with Lehman Brothers, said despite that sign of strength, it is too soon to say that the sector is going to avoid being the drag on the broader economy than many expect.
"We still expect the housing story and the eventual slowdown of hiring in the residential housing sector will weigh on the consumer," he said. "We expect the growth in consumer spending will slow down as we go through the year. But at the same time, the consumer will still be the lynchpin in the economy. Nothing in this report suggests otherwise."
Many major retailers had reported better than forecast sales in March, including Wal-Mart Stores (Charts), JC Penney (Charts) and Gap (Charts). But Wal-Mart and several other retailers warned they were looking for weaker than expected sales in April.
Strong March sales could hurt April
Wal-Mart regains top ranking in Fortune 500