(Business 2.0 Magazine) -- Would you watch 24 or The Colbert Report on a 2-inch screen? Verizon Wireless (Charts) and AT&T are betting millions of consumers will. By the end of 2007, both companies will have services that broadcast several channels of live TV to specially equipped handsets.
Verizon's service, V Cast Mobile TV, will offer eight channels--including cable favorites like MTV, ESPN, and Comedy Central alongside networks like CBS (Charts) and Fox (Charts)--broadcast over a portion of the UHF spectrum different from the one used for regular TV signals. It's launching now in a few select markets, with others to be added later in the year. V Cast Mobile TV will cost an extra $15 per month. AT&T (Charts) is still finalizing its channel lineup and pricing, and is scheduled to launch next winter.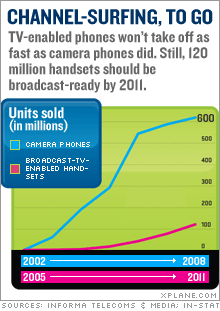 Both carriers hope the new services will offset declining revenue from ever cheaper voice services. Today, 5.3 million U.S. wireless subscribers pay for video--just 2.5 percent of all U.S. cell-phone users.
For upwards of $15 a month (on top of voice and data plans), this tiny slice of the market gets prepackaged video clips. To expand the number of mobile video users, the price point is key. "Unless it's easy and affordable, they'll be limiting the market to early adopters," says Linda Barrabee, an analyst for the Yankee Group.
Both services use MediaFlo, a technology developed over the past few years by chipmaker Qualcomm (Charts) at a cost of nearly $1 billion. The carriers' patronage means MediaFlo has won the battle for the U.S. market against a rival mobile-TV format, DVB-H, backed by Nokia (Charts).(See "New Life for the Old UHF Band,") MediaFlo is said to offer faster channel switching, better picture quality, and longer battery use than DVB-H.
Using UHF signal means "we don't have to burden the 3G networks," says Gina Lombardi, president of MediaFlo USA. It also means just 0.4 percent of mobile devices sold worldwide can pick up the broadcasts.
But that number will hit 10 percent by 2011, says London-based research firm Informa Telecoms & Media--and the global mobile-TV business could be worth $31 billion by then, up from $2 billion now. That's also a boon for smaller players like Amp'd Mobile and GoTV Networks, which have launched made-for-mobile-TV production studios.
The carriers admit they have much to learn about what consumers want to see, if anything, on that 2-inch screen. But they're acting bullish.
"Just a few years ago, using your wireless phone as a camera and then sending pictures to your friends was a novelty," says AT&T spokesman Mark Siegel. "But we've already learned that what people do with their cell phones is increasing exponentially."
______________________________
More from Business 2.0 Magazine:

click here
.