NEW YORK (CNNMoney.com) -- When you hear the name "JetBlue" what comes to mind - free in-flight TV on a new jet? Or angry passengers stranded at an airport?
If the answer is the latter, you can blame it on the problems JetBlue faced in February when a winter storm forced it to cancel more than a thousand flights, leaving thousands of passengers stuck on planes for hours.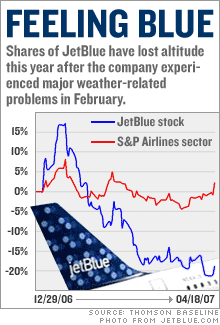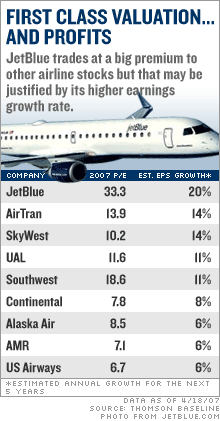 That hurt not only the airline's reputation as one of the most customer friendly airlines - but also its investors.
JetBlue's stock has plunged nearly 20 percent since mid-February. The company said the cancellations will cost at least $30 million in the first quarter; the carrier's due to report results for the quarter on Tuesday.
But some of the company's shareholders have not given up on JetBlue. Earlier this week, for instance, legendary hedge fund manager George Soros upped his investment firm's stake in the Forest Hills, N.Y.-based airline.
Still, the February service disruption highlights the challenges facing JetBlue (Charts) - an airline that can no longer be considered an upstart - as it tries to compete with bigger rivals such as Southwest (Charts, Fortune 500), American (Charts, Fortune 500) or Delta (Charts, Fortune 500).
So investors can be forgiven for wondering whether this was a one-time event or the first of a series of problems on the horizon for JetBlue.
By the company's own admission, the February disruption caught the airline unprepared. JetBlue kept passengers on the tarmac for eight hours. Furthermore, crews that could have operated JetBlue flights were prevented by a lack of coordination. Before the ice storm was over JetBlue cancelled 1,100 flights.
In the end, a profusely apologetic CEO David Neeleman promised travel vouchers for displaced passengers, a "Customer Bill of Rights" to ease the pain from future disruptions and improvements meant to prevent further breakdowns.
"I do think they had some growing pains," said Michael Magiera, a managing director at Manning & Napier, a money management firm that owns JetBlue stock - and bought more after the February decline. "They were growing so fast they didn't have systems and redundancies in place."
As a result, Wall Street analysts now expect JetBlue to report a loss of 19 cents a share for the first quarter. Three months ago, before the February fiasco, analysts had been predicting a profit of 9 cents a share.
Since February, JetBlue has grown more cautious. It pre-emptively cancelled 200-plus flights before harsh winter weather hit last month, for example. Pundits laughed, but JetBlue was taking no chances.
In the meantime, JetBlue trained administrative staff to help in airport operations when needed, and improved check-in and Web site software. The airline also made it easier for customers to call in changes to their reservations.
At the top, JetBlue hired managers with experience at American and Delta, who can help guide the airline to what it hopes is a more established place in the industry. But there could be more turbulence ahead.
"This was a one-off one-time incident," said HSBC Securities' analyst Adam Hylan, "The broader question is 'Are there going to be future growing pains?' "
Beyond the rush to get the kinks out of its operations, the airline has had to watch costs in an industry where unchecked expenses can give even the busiest carriers meager profits.
JetBlue has expanded aggressively in recent years, adding routes and planes to serve more customers.
But Raymond Neidl at Calyon Securities said JetBlue's pledge late last year to control "if not reduce" costs helped push the stock above $17 briefly in January before it got hit by the storm.
Neidl thinks the company needs to reassure Wall Street that it can keep costs down. "JetBlue must be more nimble, lean and mean, that's why the stock is languishing," he said.
David Beckerman, an analyst with airline research group Back Aviation, said JetBlue has been able to keep costs lower than most of its biggest competitors. But as the company's new planes age, JetBlue will eventually be hit with more costs as the aircraft need repairs, he said.
The price of oil is also a big risk. With oil above $60 a barrel, rising fuel costs could be the greatest threat to JetBlue's profits, HSBC's Hylan said.
In addition to concerns about costs, some analysts are worried about increased competition as well, nothing Southwest keeps growing and Delta is emerging from bankruptcy.
Back Aviation's Beckerman added that since JetBlue's hub is at New York's busy Kennedy Airport, it faces pressure from all the big airlines, notably American, Delta and Continental (Charts, Fortune 500).
"Because New York is its primary market, lots of people are gunning for you," Beckerman said.
Reaching maximum altitude?
Despite all the concerns, many analysts and investors are optimistic about JetBlue.
Beckerman said the company is still viewed relatively positively by consumers even after the storm disaster. Magiera agrees, characterizing JetBlue's problems as "one-off."
To that end, JetBlue is still expected to earn 36 cents a share this year, after a small loss in 2006. What's more, analysts expect JetBlue's profits to almost double to 70 cents a share in 2008.
Still, the stock is pricey, which was another big factor in February's drop. According to figures from Thomson Financial, the stock trades at about 33 times 2007 earnings estimates, a huge premium to other airlines. Southwest, for example, trades at about 19 times earnings projections while many carriers have P/Es in the single digits.
But JetBlue is growing more rapidly than its competitors, with analysts predicting annual earnings growth of 20 percent a year, on average, for the next few years. Southwest is expected to post earnings growth of about 11 percent a year over that span.
And possibly the best endorsement of JetBlue comes from someone known for contrarian investments and who, by all means, knows a lot more about stocks than anyone at CNNMoney.com.
George Soros, an early investor since JetBlue went public in 2002, disclosed this week that his fund bumped up its stake to 11.5 percent from 9.7 percent. So if Soros thinks JetBlue is worth buying, who are we to argue?
Analysts quoted in this story do not own shares of JetBlue and their companies have not done investment banking for it.