NEW YORK (CNNMoney.com) -- Emigrant Savings Bank, owner of online bank Emigrant Direct, announced Thursday the launch of a Spanish-language bank to deepen its push into the online Hispanic market.
The bank, called BancoFortuna.com, will target U.S.-based customers with an account yield of 5.05 percent APY with no minimum deposits or fees.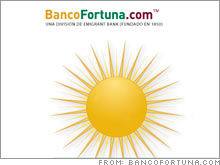 BancoFortuna.com will initially provide only savings accounts but will eventually expand its line to include credit cards and other offerings, according to CEO Howard Milstein.
"We looked at this space and saw a group of people that is underserved," said Milstein.
New York-based Emigrant Savings, a regional family-owned bank with $17 billion in deposits in 2006, is a small competitor amid traditional banks such as Bank of America (Charts, Fortune 500) and Wells Fargo (Charts, Fortune 500). But in the online savings market, Emigrant Direct is a heavyweight among Internet banks like ING (Charts) Direct, HSBC (Charts) Direct and Citi (Charts, Fortune 500) e-Savings.
Emigrant's subsidiary Emigrant Direct made a splash in the online high-yield savings industry in January 2005 when it launched the American Dream Savings Account with a 3.00 percent APY, the highest savings yield at the time.
Within a year, its online deposits hit $5 billion, surpassing those of Emigrant Savings Bank. By November of '06 Emigrant Direct reached $8 billion.
Milstein believes Emigrant's smaller size and agility will allow it to outmaneuver larger banks in attracting online customers. "We have giant competitors who aren't good at strategically thinking through the business and providing customer service that will succeed," he said.
Milstein gives the bank customer contract as an example of competitors' missteps with Spanish-speaking customers: The larger banks' contracts are in English. BancoFortuna.com offers contracts completely in Spanish as well as in English to better serve their customers.
Milstein is hoping to repeat the success Emigrant Direct had with high-yield savings but in the Hispanic market, where the bank already enjoys a healthy presence.
According to comScore, an Internet consumer behavior research firm, as of March 2007, 14 percent of Emigrant Direct's users were Hispanic compared to 9 percent for the industry overall, a promising indicator for the new venture.
But despite its meteoric rise, the annual growth in online banking customers has slowed, according to comScore. In 2004, the percent growth of customers versus the prior year increased 47.3 percent, in 2005 the number halved to 27.1 percent. In 2006, the percent growth narrowed to a mere 9.5 percent.
As the high-yield online savings sector matures, businesses such as Emigrant Direct are forced to look for new markets with ventures such as BancoFortuna.com.
Greg McBride of Bankrate.com said banks are devoting more resources to underserved markets because growth is becoming more difficult.
"Demographically, there is large growth in the Latino population. That's one reason it represents growth in the [banking] industry," said McBride.
When Emigrant Direct started in 2005, they were leading the rates in the industry, which gained market share for them quickly, comScore's Brian Jurutka explained. "But it was a rate-play," said Jurutka. "They have to choose another way to distinguish themselves."
Marketing to Hispanics is "a potential way to differentiate themselves from others in a much more crowded place," said Jurutka.
And it's a different market than even a few years ago.
But Milstein is sanguine: "We're more agile and more tuned into customer needs," he said.