NEW YORK (CNNMoney.com) -- Breaking up is hard to do, but it may be just what Tyco shareholders need.
Tyco International (Charts), the conglomerate once touted as the next GE (Charts, Fortune 500), is in the midst of splitting itself up into three separately traded companies. The break-up of Tyco marks a new era for the firm, which for years was sullied by the actions of disgraced former chief executive Dennis Kozlowski.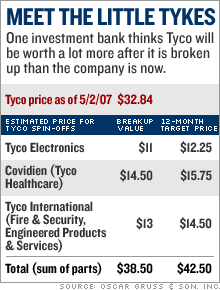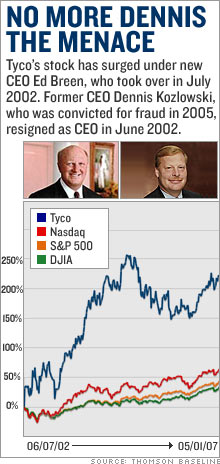 Tyco's association with Kozlowski still lingers, nearly two years after he was convicted of looting the company of hundreds of millions of dollars, and sentenced to 8-1/3 to 25 years in a New York State prison. Tales of corporate greed that involve a $6,000 shower curtain and the use of company funds for an elaborate birthday party in Sardinia for Kozlowski's wife don't fade from the public memory easily.
But under the guidance of CEO Ed Breen, who took the helm of Tyco in July 2002, the company has turned itself around and Tyco stock has nearly tripled.
Breen cut the company's addiction to mergers and cleaned up its debt-laden balance sheet. He cut costs, boosted earnings as well as cash flow and put new governance measures in place to reshape the corporate culture at the firm.
Still, a more rational Tyco means the company isn't the Wall Street darling it once was, when the wave of acquisitions engineered by Kozlowski fueled sales and profit growth that investors craved.
But when Tyco reports results on Tuesday, analysts expect earnings for its fiscal second quarter ended in March rose just 4 percent to 47 cents a share, while sales are expected to grow 5 percent to $10.8 billion.
So should investors buy Tyco ahead of its long-awaited split?
End of an empire
Under the breakup plan, Tyco will divide itself into three: Tyco Healthcare, which will be renamed Covidien, Tyco Electronics, and Tyco International, which will own the company's fire and security and engineered products divisions.
The breakup, expected to be completed by the end of June, will allow each business to pursue its own growth strategy and help create value for shareholders, Breen said when the breakup plan was announced in January 2006.
Al Cardilli, an analyst with Spin-Off Advisors, an independent research firm based in Chicago, said that's often the case with breakups. He thinks managers at companies that are spun off have an easier time focusing on their businesses, which can help drive performance.
To that end, Justin Lumiere, an analyst at Oscar Gruss, thinks Tyco will be worth much more once it's broken up. He values the sum of the company's parts at $38.50, about a 17 percent premium to Thursday's closing price of $32.85.
Tyco has long been considered an undervalued stock - conglomerates tend to trade at a discount to the broader market. But it's enjoyed a nice run over the last 15 months. The stock has rallied 23 percent since the spinoff plan was announced, and some think it's run about as far is can for now.
Standard & Poor's equity analyst Michael Jaffe, who has a "hold" on the stock, thinks breaking up Tyco will provide a modest premium. "Management may be able to focus more strictly on each individual area, but it's still fairly valued at present," he said.
Little tykes
Some analysts are concerned about how the company's divisions - some of which are already experiencing operating difficulties - will fare once the company is split up. The company's home security business, with brands like electronic security firm ADT, is a solid performer but has had trouble getting customers to renew their contracts.
Tyco is also spinning off two of its most profitable divisions - electronics, which makes products like fiber-optic cables and wire connectors - and healthcare, which is focused on medical devices and equipment.
Electronics (31 percent of sales and 30 percent of operating profit) posted an operating margin of 13 percent in the first quarter, which ended in December, while healthcare (23 percent of sales and 38 percent of operating profit) turned in an operating margin of 21 percent.
"A key concern is decelerating growth in Electronics, especially in computing and telecom infrastructure," Citigroup analyst Jeffrey Sprague wrote in a note after the company reported its first-quarter earnings in February. Healthcare margins are likely to fall due to higher marketing and research and development costs, Sprague added.
And while Breen has cleaned up Tyco's balance sheet, slashing debt to $10 billion today from about $24 billion in 2002, there's still overhang from the company's buying spree in the 1990s.
"They took over an awful lot of business, and one of the negatives is they have too many factories, many of which are operating at low utilization rates," S&P's Jaffe said.
One of the companies Tyco took over during its acquisition heyday, Central Sprinkler, is still dealing with a massive recall of sprinkler heads dating back to 2001.
Tricky valuation
Despite concerns over the outlook for some of Tyco's businesses, some analysts like Lumiere at Oscar Gruss are upbeat on the split. Besides helping management focus, he thinks the divisions could attract a takeover premium once they're split up.
"If you look at all three segments and the type of cash they're going to produce, they could all be potential acquisition candidates," he said.
The majority of Wall Street analysts are taking a more cautious approach. According to Thomson Financial, eight of the 13 analysts who cover Tyco have a "hold" rating on the stock, suggesting now may not be the best time to buy.
The stock already looks fairly valued when compared to other conglomerates. Shares of Tyco trade at about 17 times estimated 2007 earnings, about in line with GE.
Then again, the stock looks cheap against some of its "pure play" competitors. Home security provider Brinks (Charts), for instance, trades at about 26 times estimated 2007 earnings, and electrical connector firm Molex (Charts) trades at a P/E ratio of 21. But conglomerates generally trade at a discount.
Wait and see
James Denney, a portfolio manager at Mohawk Asset Management who owns Tyco in the Electric City Value fund, said he's waiting to see how the different pieces perform after the spin off.
A total realignment like the Tyco breakup can create dislocation in the market, according to Denney, whose fund focuses on finding undervalued or overlooked assets.
After a company splits, its separate parts may no longer fit the requirements of certain portfolios. Tyco currently is a component of the S&P 500 index, but it's unclear what will happen to it following the split.
Among several potential outcomes: Tyco International could remain a member while the two new pieces - Covidien and Tyco Electronics - get the boot from the index.
S&P declined to comment on how Tyco's breakup would affect the company's status in the 500, but the company tries to avoid turning over stocks in the index when possible.
Regardless of what happens, there's likely to be some market turmoil following the split, which could open up better buying opportunities down the road.
"I wouldn't be surprised if one or two of the three pieces end up getting abandoned by the Street and individual investors," said Denney.
He's waiting to see how the situation plays out before making any moves on the stock. Investors may want to do the same.
None of the analysts quoted in this story own shares of Tyco. Citigroup has an investment banking relationship with Tyco.