WASHINGTON (CNN) -- In a major victory for the makers of famed Smithfield hams, federal regulators Friday announced they will not object to a merger of the nation's two largest hog producers, which supply a major share of the nation's pork chops, hams and bacon.
The Justice Department said its antitrust investigation concluded the proposed acquisition by Smithfield Foods Inc. of Premium Standard Farms "is not likely to harm competition, consumers or farmers."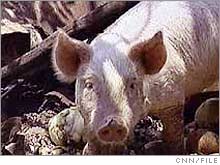 Tyson, Hormel and Swift are among competitors who will keep the newly merged firm from controlling the market, regulators said.
Officials said the case was closely watched throughout the Midwest and the mid-Atlantic region.
Smithfield Foods (Charts, Fortune 500), based in Smithfield, Virginia, is the largest hog producer as well as the largest pork packer and processor, with annual revenues of more than $11 billion. It has packing plants in Iowa, South Dakota, Nebraska, Illinois, North Carolina and Virginia.
Premium Standard Farms (Charts), based in Kansas City, Mo., is the second-largest hog producer and sixth-largest pork packer and processor in the United States, with annual revenues of about $900 million. It owns plants in Missouri and North Carolina.
The federal regulators said they concluded that if the newly merged firm attempted to lower prices offered to hog farmers, the farmers would be able to "credibly threaten to ship them to numerous packing plants ... including to facilities owned by Cargill, Tyson (Charts, Fortune 500) and Hormel (Charts, Fortune 500).
"Therefore, the Antitrust Division concluded that the acquisition is not likely substantially to lessen competition in the Midwest," the Justice Department statement said.