NEW YORK (CNNMoney.com) -- The Federal Reserve held a key interest rate steady Wednesday and indicated again that it was concerned about slower growth as well as inflation - an encouraging signal to investors that the central bank will not raise rates any time soon.
The Fed, as widely expected, kept its target for the federal funds rate, an overnight bank lending rate that affects credit card, home equity and other loan rates, at 5.25 percent.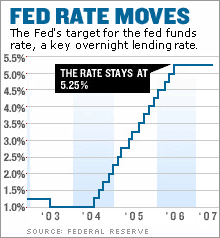 It was the seventh straight time that Fed Chairman Ben Bernanke and his fellow policy-makers held steady after raising rates 17 straight times, through June 2006, in a bid to fight inflation.
In its statement, the Fed noted that economic growth slowed early this year but indicated it's also still worried about inflation, saying "the predominant policy concern remains the risk that inflation will fail to moderate as expected."
It said, "future policy adjustments will depend on the evolution of the outlook for both inflation and economic growth," language identical to what the central bank said when it held rates steady in March.
That statement appears to indicate that the Fed is no hurry either to raise or lower interest rates in the near future.
"It sounds like everything is on course for a Goldilocks scenario. The Fed is probably on hold for the foreseeable future," said Brian Stine, investment strategist with Allegiant Asset Management Co. in Cleveland."This is a transition period for the economy. There is no urgency to cut rates anytime soon."
On Wall Street, stocks, which were mixed before the Fed's announcement, rose modestly afterward. Bonds fell, pushing the yield on the benchmark 10-year Treasury note up to 4.66 percent. Bond prices and yields move in opposite directions.
The Fed's decision to leave rates alone comes at an interesting time for financial markets. Stocks have been on a tear since March despite the slowest economic growth in four years in the first quarter.
The Fed acknowledged this weakness in its statement but reiterated that it did not expect the economy to weaken much further.
"Economic growth slowed in the first part of this year and the adjustment in the housing sector is ongoing. Nevertheless, the economy seems likely to expand at a moderate pace over coming quarters," the Fed said.
The Dow Jones industrial average and S&P 500 are trading near record highs, thanks in part to strong corporate earnings but also owing to bets the Fed will stay on hold for the rest of the year or perhaps even cut interest rates. According to futures contracts traded in Chicago, investors are betting on a strong chance of a quarter-point rate cut by year's end.
Alan Skrainka, chief market strategist with Edward Jones, a brokerage firm based in St. Louis, said the Fed is probably getting closer to cutting rates, but it isn't likely to happen at the next few meetings since the job market is still relatively strong.
"The Fed's job is to mind the store regarding inflation and they are waiting for clear signs that inflation has peaked. The Fed often waits for an uptick in unemployment since that would be the most visible signal that economic growth and inflation worries have moderated," he remarked.
Last week, the government said the unemployment rate rose to 4.5 percent in April from 4.4 percent in March. Despite the increase, unemployment remains relatively low, and until it ticks higher, the Fed will stay concerned about pricing pressures in the economy.
"It's too soon to cut rates but we still believe a cut is coming. It's just a matter of time," Skrainka said.
Keith Hembre, chief economist with First American Funds in Minneapolis, said investors may have to wait a bit longer.
Hembre thinks the unemployment rate probably needs to hit 4.7 percent before the Fed would consider lowering rates. So the Fed could be on hold throughout 2007. But Hembre believes that investors would be comfortable with this scenario and that's why stocks rallied a bit after the Fed's announcement.
"There is a sense of relief here. Anybody who had fears about a rate hike this year realize there is now a low probability of that happening," he said.
The Fed's Open Market Committee has five more scheduled meetings on tap this year. Its next meeting is a two-day session that wraps up on June 28.