(Business 2.0 Magazine) -- It's hardly Harvard, or even the University of Phoenix. But Walt Disney is getting into the education business.
CEO Robert Iger isn't satisfied with making your movies, amusement park rides, TV shows, toys, Halloween costumes and lunchboxes. Now he wants to educate you -- about technology -- free of charge.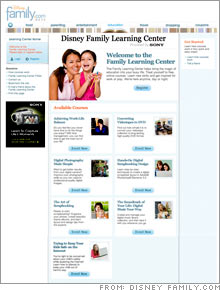 Starting today, Disney (Charts, Fortune 500) will open enrollment for seven online courses on Family.com, its how-to site for moms that covers everything from quick cooking to home schooling.
Disney's goal is pretty clear: Its family-friendly websites attract ads for juice boxes and credit cards, but its content isn't a natural fit for tech advertisers. So all the classes -- which you can find at learningcenter.family.go.com - cover tech topics: "Digital Photography Made Simple," "Digital Music Your Way,'' "Getting HDTV in 4 Easy Steps," "Converting Videotapes to DVD," and more.
For at least one big tech advertiser, the new approach is working: Disney has signed up Sony (Charts) as the classes' exclusive sponsor.
The subjects may seem lightweight. But they're hardly infomercials. There's useful information like how to choose a digital camera, the basics of shooting in the light versus dark, composing a shot, and how to actually get the photos from the camera to the computer. There are even assignments at the end of each online chapter, and quizzes to take before you move on to the next.
"We've been looking at online learning for a long time," says Emily Smith, the vice president of DisneyFamily.com. "And it's real content. I've taken the digital scrapbooking course myself, with my mom hat on."
It's hard to know which question to ask first. Why does the House of Mouse feel it should be the one to educate mommies? Why are the courses free? And why are they all about technology, when Disney doesn't sell any itself?
The short answer is that the courses reflect Disney's growing digital presence, and its desire to make keep women loyal to the brand in every medium. But the more interesting one is that these courses help Sony sell stuff.
Sony offers many of these same courses itself on its own Sony101.com website, but Disney has a key thing Sony lacks: An online audience of moms.
It's common sense: More women are going online, a big chunk of online purchases are technology, and women buy most things for the home. It's a perfect match. And it just happens that Sony sells every type of device that's covered in the courses.
Take the digital photography course. Click on "class materials" and up pops a Sony DSLR digital camera and accessories, the Sony VAIO C Series Notebook, Sony Memory Stick cards, and the Sony ImageStation for printing and sharing photos -- with the opportunity to buy each one on the spot. As you click through each chapter of a class, an array of Sony ads pop up on the side.
But before you get outraged at yet another form of corporate trickery, consider this: Consumers like these sponsored online tutorials. And they move products.
About 50 percent of people who take courses like this are already thinking about buying a related product, according to Powered., the Austin, Texas company that created the Disney courses, and has designed similar ones for Motorola (Charts, Fortune 500), Hewlett-Packard, (Charts, Fortune 500) iVillage and Atkins Nutritionals, among others.
It's hard to trust numbers from a company with online courses to sell, but Powered's research tells it that 20 percent of the people taking such a class will buy the featured brand on the spot, 65 percent will choose it for a future purchase, and 96 percent will tell their friends about it. The average purchase is $840 after completing a Powered course.
Even taking those numbers with a grain of salt, it's hard to escape the conclusion that the tutorials help people already itching to buy something choose a brand.
"This makes the advertising and buying experience pleasant for people,'' says Dave Ellett, chairman and CEO of the company. "People opt in to this." That's a huge advantage for the likes of Sony and Disney, in an age when people are bombarded with ads and doing their best to opt out.
The online-class format also gives marketers pinpoint behavioral targeting for their ad campaigns. That's the holy grail of advertisers these days, who are doing their best to cut through the ad clutter by contacting the consumers they think are least likely to reject them. And it doesn't hurt that Sony has bought all of Disney's ad inventory for the classes.
Forrester Research analyst Lisa Bradner calls the single-sponsor tactic "back to the future," a new twist on the way companies like Ford and General Electric sponsored entire TV shows in the early days of television.
The balance of selling and educating is a delicate one, and tipping too far to the first side is likely to make consumers feel the spin. Disney, of course, is one of the most trusted brands around. It would be hard to argue its tutorials, with their practical tips, sully the company name.
But take the "Exercise Smart to Make the Most of Your Workout" course on the Atkins Leaning Center (learningcenter.atkins.com) which is also a Powered production. Recommended course materials include the Atkins Advantage Royal Chocolate Shake Can. It's one thing to argue that you need a camera to shoot pictures. Does anyone really need chocolate to reach their target heart rate?
That's the challenge for marketers thinking about using online tutorials to sell: To pull it off, you've really got to be a class act.
Evelyn Nussenbaum, a senior editor for Business 2.0 Magazine, blogs daily about the wild digital frontier of marketing and advertising.

To send a letter to the editor about this story,
click here
.