NEW YORK (CNNMoney.com) -- A sharp sell-off in Chinese stocks could hammer U.S. markets in early trading Wednesday.
U.S. stock futures were down sharply in early trading, indicating a lower open for stocks, after the Shanghai Composite index plunged 6.5 percent in early trading after China hiked a tax on stock trading there in an effort to cool economic growth.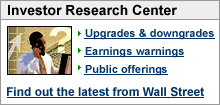 Last week former Federal Reserve Chairman Alan Greenspan warned in a speech that Chinese stocks were due for what he termed a "dramatic correction." The sell-off in China sparked a lower close in most major markets in Asia and had stocks in Europe lower in early trading.
According to Standard & Poor's statistics, the Shanghai market had only about 3 percent of the world's market capitalization at the end of 2006, but a tripling in the value of Chinese stocks in 2006 has given the nation's equities growing importance to the world equity markets.
Including the markets in Hong Kong, Chinese markets had about 7.6 percent of the world's market value at the end of 2006, which is close to Japan's 8.7 percent share. By comparison, U.S. markets had 35.8 percent of the market at the end of 2006.
"It's certainly looking like it will at least be a bad start," said David Wyss, chief economist for the S&P. "Even though it's not a huge part of the global stock market, the economy is now the second largest the world, and last year it accounted for almost one-third of the world's economic growth."
Wyss said that the Chinese markets are attracting more than just foreign investment to spur the growth.
"As of last week they were opening 300,000 new trading accounts a day," he said.
It would not be the first time that a plunge in Chinese stocks echoed in markets around the globe. On Feb. 27, an 8.8 percent drop in the Shanghai index sparked a global sell-off, including a 416-point drop in the Dow Jones Industrial average in the worst day for U.S. stocks since the resumption of trading following the 9/11 attacks in 2001.
In corporate news, IntercontinentalExchange (Charts) reached a deal with the Chicago Board Options Exchange that could give it an edge in its hostile bid for the CBOT Holdings (Charts), the owner of the Chicago Board of Trade, according to a report in the Wall Street Journal. CBOT has agreed to be purchased by the Chicago Mercantile Exchange (Charts), but ICE hopes to make its more lucrative offer more attractive by reaching a deal that would end a longstanding feud between CBOT and the CBOE if ICE were to buy CBOT.
Computer technology retailer CDW (Charts, Fortune 500) announced late Tuesday it has agreed to be purchased by a private equity firm for approximately $7.3 billion, capping recent speculation about a sale. Shares, which gained nearly 10 percent in trading Tuesday on rumors of a deal, rose another 1 percent in after-hours trading follow the announcement.
In a further sign of weakness in the real estate and home building market, No. 4 home builder Pulte Homes (Charts, Fortune 500) announced a restructuring plan Tuesday, saying it plans to cut its work force by 16 percent.
Computer maker IBM (Charts, Fortune 500) said it bought back 8 percent of its outstanding shares Tuesday and raised its 2007 earnings-per-share forecast to reflect the smaller number of shares. Shares of the Dow component edged up only 0.1 percent in after-hours trading on the news, but were up 0.4 percent in Frankfurt trading early Wednesday.
The are no economic reports due Wednesday morning but at 2 p.m. the Fed will release the minutes of its May 9 meeting, at which it left rates unchanged and cited the risk of inflation as its most pressing concern.
Oil prices were little changed Wednesday after being higher earlier. U.S. light crude gained 1 cents to $63.16 a barrel in electronic trading. The weekly report on U.S. fuel inventories, typically released Wednesday, will be delayed a day this week by the Memorial Day holiday.
Treasury prices were higher, taking the yield on the 10-year note to 4.86 percent from the 4.88 percent level reached late Tuesday. The dollar was higher against the euro and little changed against the yen.