NEW YORK (CNNMoney.com) -- Shares of Dell jumped Friday, a day after the No. 2 PC maker reported better-than-expected sales and earnings and said it would cut its staff by 10 percent during the next 12 months.
Dell (up $0.96 to $27.87, Charts, Fortune 500) shares rose 3.6 percent in early session trading on the Nasdaq.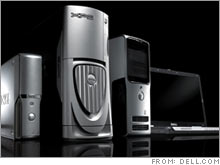 A spokesman for Dell said the job cuts would amount to about 8,800 positions. Dell currently employs 88,000 people worldwide.
The computer maker on Thursday reported net income of $759 million, or 34 cents a share, for its fiscal first quarter ended May 4, compared with $762 million, or 33 cents, a year earlier.
Analysts surveyed by Thomson Financial expected earnings of 26 cents.
Revenue grew about 2.8 percent to $14.6 billion versus forecasts of $13.9 billion.