CHICAGO (CNNMoney.com) -- Bristol and AstraZeneca reported Monday the most advanced late-stage studies for their experimental drug saxagliptin, showing it helped diabetics control their blood-sugar levels.
This is the first time the companies unveiled phase 3, or late-stage, study results for saxagliptin. If this experimental drug eventually gets approved by the Food and Drug Administration, it could compete directly with Merck's (down $0.21 to $48.34, Charts, Fortune 500) Januvia.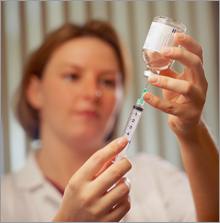 Januvia, considered by analysts to be a potential billion-dollar blockbuster, was launched onto the U.S. market last year. Januvia and saxagliptin are both oral treatments for diabetes that are members of a class of drugs known as DPP-4 inhibitors.
In the phase 3 study, the drugmakers Bristol (up $0.16 to $31.56, Charts, Fortune 500) and AstraZeneca (down $0.25 to $51.00, Charts) found that saxagliptin, combined with the widely used generic drug metformin, was more than twice as effective in controlling blood-sugar levels than metformin alone.
The study found that 17 percent of metformin patients reached acceptable blood-sugar levels. Of the patients who took the saxagliptin-metformin combo, 37 percent to 44 percent reached healthy blood-sugar levels, depending on how much they took.
The study tracked 743 type 2 diabetics over 24 weeks. None of the diabetics took insulin during the study.
Type 2 is the most common form of diabetes, affecting at least 90 percent of the more than 20 million diabetics in the country, according to estimates from the American Diabetes Association (ADA). Type 2 diabetes typically occurs in adults and the problem is growing in America.
Diabetes-related drug spending in the U.S. is expected to soar 70 percent through 2009, according to drug benefit manager Medco Health Solutions Inc. The market for non-insulin oral diabetes drugs totaled $8.4 billion in 2006, according to Barbara Ryan, analyst for Deutsche Bank North America.
Diabetics have difficulty producing their own insulin, which converts sugar into energy. As a result, diabetics are at risk of dangerous fluctuations in blood-sugar levels. Insulin injections have been available since the 1920s, but non-insulin drugs are also used to control blood-sugar.
These non-insulin drugs include Merck's Januvia, as well as Byetta from Eli Lilly & Co. (down $0.32 to $55.48, Charts, Fortune 500) and Amylin Pharmaceuticals. In addition, Novartis (up $0.01 to $55.46, Charts) is developing a drug called Galvus, but it has been held up by the FDA because of side effects.
Januvia, Galvus and saxagliptin are all members of the DPP-4 class. Ryan at Deutsche Bank North America said saxagliptin could have a tough time competing against Januvia, which has a clean safety profile. Ryan said early-stage studies with saxagliptin in monkeys revealed problems with skin toxicity, just like with Galvus.
AstraZeneca spokesman David Albaugh and Bristol spokesman David Rosen said the skin toxicity problems have not surfaced in human patients. They would not confirm whether the problems had surfaced in early-stage primate studies.
Bristol and AstraZeneca announced their saxagliptin findings at the annual conference of the ADA. AstraZeneca's Albaugh said late-stage tests are continuing, and the companies plan to submit saxagliptin to the FDA during the first half of 2008.
On Sunday, Bristol and AstraZeneca also unveiled study results for an earlier-stage diabetes compound called dapagliflozin. Results showed the experimental drug controlled blood-sugar levels and appeared to be safe, but years of further study are required before it can be submitted to the FDA.