NEW YORK (CNNMoney.com) -- Stock futures pointed to a slight recovery Tuesday but jitters about the housing sector could spark another day of volatile trading.
At 6 a.m. ET, futures were a tad higher, with a comparison to fair value pointing to a positive opening for U.S. stocks.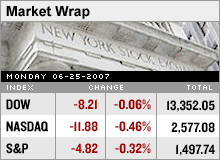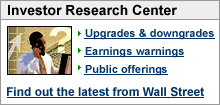 Wall Street rallied for much of the trading day Monday but gave up those gains in the last 90 minutes of trading amid renewed fears about big losses by hedge funds invested in securities backed by subprime mortgages.
The latest look on the battered real estate market could set the tone on Tuesday. The Commerce Department is due to release a report on May new home sales after the market open. Economists surveyed by Briefing.com forecast sales fell to an annual pace of 925,000 homes sold in May, down from a 981,000 pace in April when sales were spurred by a large drop in prices.
Another look at the battered housing and home building market came before the bell when Lennar (Charts, Fortune 500), the nation's largest home builder by revenue, reported an unexpected loss in the second quarter and warned that worsening conditions in the market mean losses will continue into the third quarter. Lennar shares slipped 3.4 percent in premarket trading.
The other economic report Tuesday, also due at 10 a.m., is the latest consumer confidence survey from the Conference Board. Economists are forecasting that index will slip to 106 from a 108 reading in May.
Tech bellwether Oracle (Charts, Fortune 500) is due to report results after the close Tuesday. Analysts are forecasting improved results there.
Treasury prices were little changed in early trading, leaving the yield on the benchmark 10-year note near the 5.08 percent level reached late Monday following a rally in prices.
Oil prices were lower in early trading, taking it below the $69 a barrel mark. U.S. light crude lost 42 cents to $68.76 a barrel in electronic trading.
In global trade, European shares fell at the open, and most markets in Asia finished the session lower. The dollar was higher against the euro but lower versus the yen in early trading.
ABN Amro's (Charts) sale of U.S. subsidiary LaSalle Bank should not be put to a shareholder's vote, a law professor advising the Dutch Supreme Court on the frozen sale of LaSalle said on Tuesday, a decision that could clear the way for Bank of America (Charts, Fortune 500) to buy LaSalle and British bank Barclay's (Charts) to buy ABN. Rival bidders for ABN led by the Royal Bank of Scotland had sought to block the LaSalle sale.
In other corporate news, Rupert Murdoch's News Corp. (Charts, Fortune 500) and Dow Jones (Charts) could announce a deal over the editorial independence of the Wall Street Journal as early as today, the Journal reported.
Such an agreement would pave the way for News Corp. to buy Dow Jones. News Corp. has made a $5 billion bid for Dow Jones, but issues of editorial integrity have been a major obstacle in takeover talks.
Swiss drugmaker Roche (Charts) made a hostile $3 billion bid for Ventana Medical Systems (Charts), which makes systems used to diagnose and treat cancer and infectious diseases. The $75 a share cash offer was a 45 percent premium to its closing price on Monday, and it sent its shares up 52 percent to $78.69 in after-market trading.