NEW YORK (CNNMoney.com) -- Wall Street looked set for an upbeat opening Monday as traders geared up for the beginning of the earnings reporting period.
At 7:33 a.m. ET, futures were up slightly, and although they were off of earlier highs, a comparison to fair value pointing to a positive opening for U.S. stocks.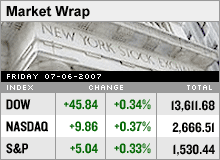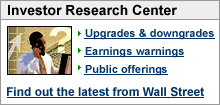 Traders will have their eyes on aluminum giant Alcoa (Charts, Fortune 500), which the Dow component kicks off the start of quarterly earnings reports when it posts results after the market close. Analysts surveyed by earnings tracker First Call forecast that profit fell 10 percent from year-earlier levels.
Peter Cardillo, chief market economist for Avalon Partners, said he believes that with a lack of economic reports or major merger news, stocks are likely to be mixed Monday ahead of the earnings reports.
"Basically today the market will prepare itself for earnings season," said Cardillo. "I kind of suspect that the focus will be on guidance."
Positive sentiment was also felt overseas. European stocks rose at the open, and major Asian markets rallied.
Treasury prices were little changed in early trading, leaving the yield on the 10-year near the 5.18 percent level reached late Friday. The dollar was slightly lower against the euro but little changed versus the yen in early trading.
Oil prices fell in early trading, although it was up from earlier lows for the day. U.S. light crude down 39 cents to $72.42 a barrel in electronic trading.
In deal news, chemical giant Huntsman (Charts, Fortune 500) received a sweetened offer from buyout firm Apollo Management, according to a report in the Wall Street Journal.
Meanwhile, European private equity firm CVC Capital Partners has made an offer for chemical firm Univar.
And Wall Street Journal publisher Dow Jones (Charts), which has been in talks for a takeover by News Corp. (Charts, Fortune 500), will meet with supermarket magnate Ron Burkle as it explores its options other than News Corp., a source familiar with the situation told wire service Reuters on Sunday.
In other corporate news, Sony (Charts) is slashing the cost of its PlayStation 3 game console in North America due to weak sales, as it tries to regain market share lost to the Microsoft (Charts, Fortune 500) Xbox 360 and the Nintendo Wii.
Boeing (Charts, Fortune 500) is likely to get a boost from the unveiling of its 787 Dreamliner in a Sunday ceremony in Everett, Wash. New orders announced over the weekend bring the company's order total for the plane to more than $100 billion. Boeing shares rose 1.4 percent in Frankfurt trading.
Ford Motor (Charts, Fortune 500) and power utility Southern California Edison, a unit ofEdison International (Charts, Fortune 500), are set to announce an alliance Monday aimed at clearing the way for a new generation of rechargeable electric cars.