NEW YORK (CNNMoney.com) -- The CEO of Whole Foods posted negative comments about a competitor on a Web message board for years, while celebrating his own company's stock performance, according to Federal Trade Commission documents.
For eight years, 53-year-old John Mackey posted comments on Yahoo's stock forum under the alias of "Rahodeb" (an anagram of his wife Deborah's name), including the suggestion that rival Wild Oats Markets was not worth buying, The Wall Street Journal first reported Wednesday. Whole Foods (Charts, Fortune 500) agreed to purchase Wild Oats (Charts) for $565 million earlier this year.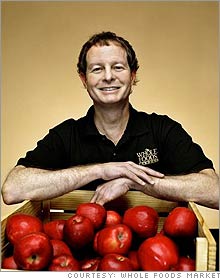 The company disclosed the postings as part of a document made public by the FTC over its suit to prevent the deal from going through.
Mackey posted on Yahoo's board saying that "the writing is on the wall" for Wild Oats. The FTC noted that "As here, Mr. Mackey often posted to Internet sites pseudonymously, often using the name Rahodeb."
The user often praised Mr. Mackey's work.
The Journal, quoted Mackey writing in 2000, "While I'm not a 'Mackey groupie, I do admire what the man has accomplished."
According to a Whole Foods statement, Mackey said, "I posted on Yahoo! under a pseudonym because I had fun doing it. Many people post on bulletin boards using pseudonyms."
He added, "Sometimes I simply played 'devil's advocate' for the sheer fun of arguing."
"At no time did I reveal any proprietary information about Whole Foods on Yahoo (Charts, Fortune 500)," he said.
Mackey co-founded Whole Foods and used acquisitions to build it into the world's largest natural foods grocery.