NEW YORK (Reuters) -- Moody's on Thursday said it may still downgrade Countrywide Financial's debt ratings because its liquidity remains strained despite a $2 billion capital infusion.
Countrywide (up $1.40 to $23.22, Charts, Fortune 500) will likely be downgraded if its liquidity comes under further stress or if its bank finds it difficult to stabilize and grow its deposit base, Moody's said in a statement.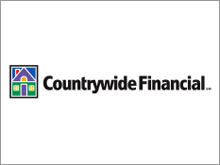 Countrywide on Wednesday received a $2 billion injection from Bank of America (up $0.09 to $51.74, Charts, Fortune 500), helping the largest U.S. mortgage lender shore up its finances as it struggles with a liquidity crunch.
Moody's rates the senior debt of Countrywide and its unit Countrywide Home Loans "Baa3," the lowest investment grade. A downgrade would take the senior debt into junk territory. The "Baa1" deposit rating of Countrywide Bank FSB also remains under review for downgrade, Moody's said. A "Baa1" rating is the third-lowest investment grade.
"This investment by Bank of America in Countrywide should be a positive step in helping to alleviate pressure on Countrywide's liquidity, and in restoring confidence in the mortgage firm," Moody's analyst Philip Kibel said in a statement.
"However, Countrywide's overall liquidity and access to funding remain strained due to continued dislocations in the mortgage markets, and these matters, among others, need to be addressed before Moody's would resolve its ratings review," Kibel said.
While Countrywide has been making efforts to shore up its funding, it still needs to make progress in arranging term borrowing facilities, and funding stresses exist at several points in the Countrywide organization, Moody's said.
Lack of stability in the single-family mortgage market is also putting pressure on Countrywide and numerous other mortgage firms, the rating agency said.
Ratings could be confirmed if Countrywide makes progress in stabilizing and widening its funding sources in all parts of its organization, including the bank, and handles the repayment or refinancing of its unsecured and secured liabilities, Moody's said.
News of the equity infusion triggered a sharp fall in debt protection costs on Countrywide Home Loans on Thursday.
The cost of protecting Countrywide's debt for five years fell to about 150 basis points, or $150,000 a year for every $10 million protected, down from about 325 basis points on Wednesday, according to data from CMA DataVision.