NEW YORK (CNNMoney.com) -- U.S. stocks were poised for a lower open Friday as investors saw a net loss of jobs in August.
At 8:40 a.m. ET, Nasdaq and S&P futures were sharply lower, falling further in the wake of the jobs numbers.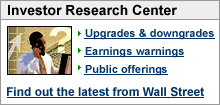 The economy shed 4,000 jobs in August, well short of analyst expectations of a 110,000 job gain - from a revised 68,000 job rise in July.
The unemployment rate came in in-line with expectations at 4.6 percent.
Stocks rallied Thursday in anticipation of the report, as investors kept their fingers crossed for a report that showed moderate job growth.
The much weaker-than-expected report could raise concerns about the economy going forward.
It could also be seen as indicating a possible Federal Reserve rate cut due to problems in the mortgage and other debt markets and the impact on home building and real estate.
The latest sign of the problems in those sectors came late Thursday when Hovnanian Enterprises (Charts, Fortune 500), the nation's No. 6 home builder in terms of revenue, reported a wider-than-expected loss in the most recent quarter, the fourth straight quarter than it has been in the red.
Still, shares of the builder gained 3.6 percent in after-hours trading, perhaps on relief that results were not even worse.
Apple (Charts, Fortune 500) announced late Thursday afternoon it will give a $100 credit to certain customers who bought the iPhone soon after it went on sale after receiving hundreds of emailed complaints from customers angry about a steep price cut for the iPhone announced Wednesday. Shares of Apple fell 0.5 percent in early Frankfurt trading Friday.
UnitedHealth Group (Charts, Fortune 500) agreed to pay $12 million to 36 states and the District of Columbia to settle complaints about the insurer's past claims practices. Shares lost 0.4 percent in after-hours trading.
Krispy Kreme Doughnuts (Charts) reported after the close Thursday a second quarter loss of 8 cents a share before restructuring charges, rather than the 3 cent a share profit that had been forecast. Shares of the company, which also announced it was closing several underperforming stores and expects additional closures in the future, fell 0.4 percent in after-hours trading.
The Wall Street Journal reported that former Fed Chairman Alan Greenspan speaking to economists in Washington, compared the current market turmoil to that of the stock market crash of 1987 and the problems of 1998, when the giant hedge fund Long-Term Capital Management nearly collapsed.
Hogan said the comments may be weighing on some traders, although he doubts Greenspan is the major mover ahead of the jobs report.
"If Greenspan didn't have a book coming out, he might shut up," said Hogan. "I know every member of the Fed wishes that he would shut up."
In overseas markets, stocks in Asia were mixed ahead of the U.S. jobs report, while major indexes in Europe were lower in early trading.
Treasury prices surged after the jobs report, taking the yield on the 10-year note to 4.42 percent from 4.5 percent late Thursday. The dollar was higher against the euro but lower versus the yen.
Oil prices retreated, with U.S. light crude down 33 cents to $75.96 a barrel.