NEW YORK (CNNMoney.com) -- U.S. stock futures indicated a weak open Wednesday as record high oil prices and weakness in the dollar weighed on investors and a cloud of uncertainty was cast over Japan.
At 6:30 a.m. ET, Nasdaq and S&P futures were lower, with a comparison to fair value pointing to a flat to negative opening for Wall Street.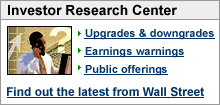 Crude prices kept pushing higher Wednesday after settling at a record high of $78.23 a barrel in New York the previous session. In early trading Wednesday, a barrel of U.S. light crude edged up 3 cents a barrel ahead of the weekly report on U.S. fuel inventories due at 10:30 a.m. ET.
The resignation of Japanese Prime Minister Shinzo Abe also added to investor woes, as his exit is expected to unsettle Japanese markets for some time.
The benchmark Nikkei 225 index slid 0.5 percent in the wake of Abe's resignation. Elsewhere in Asia, markets finished mixed. Major markets in Europe also were mixed in early trading.
The dollar fell to a record low versus the euro and was also lower versus the yen.
Treasury prices edged higher in early trading, taking the yield on the 10-year note to 4.36 percent from 4.37 percent late Tuesday.
Chipmaker Texas Instruments (Charts, Fortune 500) slightly raised its third-quarter forecast late Tuesday. The company said it expects earnings of 49 cents to 53 cents per share, versus an earlier forecast range of 46 cents to 52 cents a share. But 2 cents of that EPS came from a gain from the sale of a unit, rather than operations, and the shares lost 2.2 percent in after-hours trading.
In other corporate news, a group of states led by California asked a federal judge Tuesday to extend court oversight of the business practices of No. 1 software firm Microsoft (Charts, Fortune 500) that were part of a 2002 antitrust settlement. The states argued in a court filing Tuesday that the oversight, set to expire Nov. 12, should be extended another five years. Shares of Microsoft lost 0.3 percent in early Frankfurt trading.
FDA advisers voted against requiring specific information about red blood cell levels on product labels for an anti-anemia drugs sold by Amgen (Charts, Fortune 500) and Johnson & Johnson (Charts, Fortune 500), a move that could boost sales of the medications.
Yahoo (Charts, Fortune 500) announced a deal early Wednesday to sell most of the display advertising for England's leading online social network, Bebo.
And fast-food chain Burger King (Charts) unveiled plans to sell healthier kids meals.