NEW YORK (CNNMoney.com) -- Woe is Wall Street.
Since the subprime mortgage market began to unravel, the once dizzying pace of corporate deals has hit a major slowdown, credit spreads have widened significantly and investor interest in corporate debt has dried up.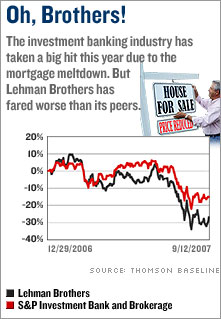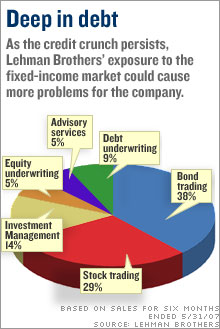 Lehman Brothers is among the Wall Street banks that have been hardest hit by the turmoil. Since June, Lehman has shuttered its subprime mortgage unit BNC Mortgage and slashed over 2,000 jobs worldwide. The stock has taken a beating amid speculation that the credit market crisis will only worsen.
So far this year, shares of Lehman (Charts, Fortune 500) are down 27 percent, significantly lagging most of its peers.
Investors are hoping Lehman's fate will become a little clearer when it reports third-quarter results on Tuesday. According to to analysts surveyed by Thomson First Call, the New York City-based bank is expected to report revenue of $4.3 billion, up about 3 percent from a year ago.
But profits are expected to slip to $1.47 a share from $1.57 a year ago.
So is the worst over for Lehman, making now a ripe opportunity to invest in the stock? Or does its stock only have further to fall?
Crushed by credit crunch
If there has been one thing Lehman has done better than anyone on Wall Street in recent years it is profiting from the credit markets.
Relying on fixed-income trading and debt underwriting, Lehman elevated itself from a division of American Express (Charts, Fortune 500) to a worthy adversary of larger investment banks Goldman Sachs (down $0.12 to $188.35, Charts, Fortune 500) and Morgan Stanley (down $1.14 to $65.65, Charts, Fortune 500).
While the company has worked hard to diversify its holdings internationally and into areas such as asset management and stocks, Lehman still has a heavy fixed-income focus. And this proved to be devastating as the credit crisis swept over Wall Street this summer.
Still, investors really don't know just yet how bad the damage is. They should get some answers when Lehman reports its quarterly results. Investors will be paying close attention to Lehman's fixed-income trading division, which handled, among other things, the mortgage-backed securities that have imploded since the subprime crisis emerged.
"That seems to be the big question people will have," said Jeff Harte, a financial services analyst with Sandler O'Neill & Partners. "We'll see how well it holds up."
Wall Street is betting that it hasn't. During the past two months, analysts have slashed their earnings per share estimates for this quarter, which ended in August, by about 19 percent, from $1.81 a share to $1.47.
What's more, analysts have lowered their earnings targets for Lehman's fiscal fourth-quarter by 10 percent and for all of Lehman's next fiscal year by 7 percent during the past two months.
Beyond the debt
It's not all doom and gloom at Lehman though.
Heavy stock trading volumes on Wall Street this summer and Lehman's surprisingly strong merger and acquisition activity early in the quarter could help keep Lehman's earnings afloat. And Lehman does get nearly a third of its revenue from equity trading.
"There are a lot of reasons for the trading division to show good results," said Dick Bove, an analyst with Punk Ziegel & Co., citing higher volatility in the markets recently and increased trades of equities, junk bonds and commercial paper.
But Bove believes that won't be enough to comfort investors who are concerned that brokerage firms like Lehman are not correctly valuing the mortgage-related assets on their balance sheets.
"The big challenge that Lehman and other brokerage firms have in this quarter is to somehow rebuild confidence they are valuing [the assets] correctly," said Bove, the only analyst covering Lehman that has it rated a "sell."
"The net effect is if there isn't any clarification about the true value of these securities, [financial] stocks will continue to go lower."
Good long-term bet, but...
Most analysts on Wall Street believe that Lehman stock is cheap right now, especially since it has slipped from $80 a share to about $59 a share in just three months.
On a price-to-book-value ratio - a measure of assets minus liabilities that is analysts' preferred yardstick for comparing financial stocks because of the volatility of earnings in the sector - Lehman is trading at about 1.5 times book value. That's cheaper than rival Goldman Sachs, which trades at a multiple of 2.1, and Morgan Stanley, which trades at a multiple of 1.7.
Yet, with so much uncertainty about the credit crisis and concerns that many of the deals Lehman has attempted to finance, such as Kohlberg Kravis Roberts' leveraged buyout of First Data Corp., will not get done, analysts warn prospective buyers that Lehman stock may have more room to fall.
Analysts also said that investors who have been hoping for Lehman to be taken over may be in for a disappointment. The company has perennially been a rumored merger target because of its bond expertise but even though its arguably more vulnerable now than ever, analysts think the bank is likely to stay independent.
But if you happen to already own shares, it might be worth holding on because Lehman eventually should rebound. Morningstar analyst Ryan Lentell pointed out that Lehman's diversification efforts will minimize the exposure of its fixed-income business going forward.
And assuming the health of the credit markets improve, which could be sparked as early as Tuesday by an anticipated Federal Reserve rate cut, Lehman has a number of deals in the pipeline that could get completed in the coming months.
"There's definitely short-term risk involved and it's tough to say what earnings will be like this quarter and over the next 6 to 12 months," said Lentell, who thinks the stock could be worth $72 a share. "But long term, Lehman has a strong franchise."
Still, it looks like things are going to get worse before they get better. So bargain hunters probably can sit back and wait for Lehman to get even cheaper before scooping up shares.
None of the analysts quoted in this story own shares of Lehman Brothers or have an investment banking relationship with the company. But Sandler O'Neill has received compensation for non-investment banking services in the last 12 months.