NEW YORK (CNNMoney.com) -- U.S. stock futures fell Tuesday as signs that consumers may be cutting back fanned recession worries.
Two major retailers warned late Monday about a slowdown in sales. Target cut its forecast for September same-store sales growth, saying that weak traffic will hurt sales, particularly in Florida and the Northeast, two areas that have been hit by the slowdown in housing.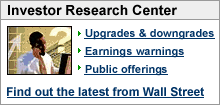 Meanwhile Lowe's, the No. 2 home improvement retailer, said that "uncertainties" in the market made it prudent to trim its sales and earnings outlook.
Shares of Target (Charts, Fortune 500) fell nearly 4 percent in pre-market trading Tuesday, while Lowe's (Charts, Fortune 500) stock sank about 8 percent.
Art Hogan, chief market analyst at Jefferies & Co., said the warnings from the two retailers shook up investors, who have been looking for warning signs that problems in housing and mortgage markets would start to cut into consumer spending.
"At the end of the day, the chief concern is how will the consumers hold up with all these problems," he said. "Now you've got two major retailers raising those concerns. There's a concern that this could be the start of bigger problems."
A significant pullback in consumer spending, which accounts for more than two-thirds of the nation's economic activity, could raise the threat of recession.
Investors will get a closer look at the health of the American consumer at 10 a.m. ET, when a report on September consumer confidence is due to be released. Also due out at 10 a.m. is a report on August existing home sales from the National Association of Realtors.
Economists surveyed by Briefing.com forecast that the consumer confidence reading from research group The Conference Board will slip to 104.5 from the 105 reading in August.
Meanwhile, the pace of sales of existing homes is expected to post a further decline, with economists looking for a slowdown to an annual pace of 5.5 million homes in August from 5.8 million in July. Home prices could also take a hit as problems in mortgage and credit markets limited buyers' ability to get financing.
Hogan said he thinks the confidence number has a greater chance to move the markets Tuesday than the home sales report.
"We know the housing numbers will be awful; I don't think there's a number low enough to shock us," he said. "But we really don't know how confident consumers are. If that number comes in weaker than expected, coupled with what we heard from the retailers last night, and that could really shake things up."
In a further sign of trouble for the battered housing and home building markets, Lennar (Charts, Fortune 500), the nation's No. 1 home builder by revenue, posted a much bigger-than-expected loss Tuesday for its fiscal third quarter. Lennar reported steep drops in deliveries and new orders and rising cancelations, and said it has already slashed staff and plans further cuts.
In other corporate news, Microsoft (Charts, Fortune 500) may be considering buying up to a 5 percent stake in social networking site Facebook for $300 to $500 million, according to a report in the Wall Street Journal.
Talks between the United Auto Workers union and General Motors (Charts, Fortune 500) were expected to resume Tuesday. The UAW launched a strike against GM on Monday, with 73,000 UAW members walking off the job, after the two sides failed to reach a labor contract. The impact of the strike could start to spread to GM suppliers as soon as Tuesday. GM shares, which were down only slightly in trading Monday, fell nearly 2 percent in pre-market trading Tuesday.
Power producer NRG Energy (Charts, Fortune 500) is expected Tuesday to submit the first application for a new nuclear reactor in the United States since the Three Mile Island accident in 1979.
In global trade, most Asian markets finished the session higher, while European stocks declined in morning trading.
The dollar was highter against the euro but lower versus the yen in early trading. Meanwhile, oil prices fell in early trading, as the price of a barrel of U.S. crude for November delivery lost 78 cents to $80.19 a barrel in electronic trading.