A soldier's story: Financial rehab
A mortar shell in Iraq shattered Ivan Castro's eyesight and maybe his military career. Now he's on a new mission: making sure he's got enough money to live on.
301 Moved Permanently
---
nginx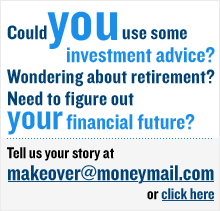 (Money Magazine) -- In October 2006, after seven weeks as a patient at National Naval Medical Center in Bethesda, Md. - four of them in intensive care - 1st Lieut. Ivan Castro was still in bad shape. The month before, he'd been hit by mortar fire during combat in Iraq, shrapnel ripping through his body, causing multiple injuries that had left him near death.
During his stay in the hospital, Castro had lost 40 pounds. He could walk only about 10 steps before collapsing into a wheelchair. Worse still, the explosion had blown out one of his eyes and badly damaged the other. He was blind. Permanently.
Lying in his bed, Castro overheard a doctor and nurse talking about their recent run in the Marine Corps Marathon, a 26.2-mile race held annually in the Washington, D.C. area. Impulsively he set what seemed to be an outrageous goal. In one year, Castro promised himself, he would run the marathon. "I'm going to show everybody this is not going to take me down," Castro, 40, recalls telling himself. "This won't put me out of the fight."
Castro's can-do optimism in the face of grim situations had served him well in numerous combat zones. Now he needed it at home. Up until the attack, he'd had his future mapped out. He planned to spend 30 years on active duty, then retire on an officer's pension. He would make extra money buying homes and renting them out. And he'd build a dream house for himself, his wife Evelyn, 34, and the kids they would have together.
Shattered plans
The mortar fire shattered those plans. Since the explosion, recovering has become his full-time job - months of physical rehabilitation and instruction in coping with blindness, interspersed with additional surgeries to repair his body. He's had to come to terms with losing not only his vision but also his independence and possibly his livelihood. He can no longer get himself to such routine destinations as the gym or the barbershop, much less lead soldiers into battle.
And there are financial strains: Evelyn quit her job to help Ivan recover, while Ivan worries about what will happen to his income if the Army discharges him for medical reasons.
Their story is being repeated, with variations on the theme, in military households across the country. Ivan Castro is just one of more than 13,000 members of the armed services so severely wounded in post-9/11 conflicts that they couldn't immediately return to active duty. More than 5,500 have suffered traumatic brain injuries. Hundreds have had limbs amputated or, like Castro, lost their eyesight. All face a terrifyingly uncertain future.
"They have to figure out from this moment on what they want their life to look like - what they want their career to be, what they want for their family," says Cary Carbonaro, a certified financial planner who has worked with injured soldiers. "That's tough for anyone, but really rough if you're also struggling with a disability."
Unfortunately, what Castro yearns for most may be out of reach. "I just want to live a normal life again, have people treat me normally and continue doing the work I really love," he says. He adds, "If the Army would let me, I'd stay in 50 years."
A short break from school
When castro enlisted in 1990, he didn't think he'd stay in the Army long. A senior at the University of Puerto Rico, Castro found himself losing interest in his studies and decided to take a short break from school. (At age 12 the Hoboken, N.J. native had moved to the island with his mom, who was divorced from his dad.)
He was deployed almost immediately as an infantryman in the Gulf War and later served in the Balkan conflicts of the 1990s. He quickly learned he loved the camaraderie of Army life - plus the adrenaline rush. "I love shooting and blowing through doors and walls and doing tasks that you think, 'Man, can we do this? Oh, yeah, we can!'" He applied to join the Army Special Forces, earning his Green Beret in 2000. "I was always looking for a challenge," says Castro. "Always looking for excitement."
Married in 1990, he and his wife had one child, Ivan Eduardo, in 1993, before they divorced in 1997. (Castro gets to spend time with his son, who lives with his ex-wife in Virginia, about once a month and helps support him financially.) He met Evelyn while on vacation two years later, and they married in 2001. The following year they bought a three-bedroom $98,000 house in Raeford, N.C., near Fort Bragg, where Castro was based.
The couple lived comfortably enough on Ivan's $50,000-a-year income. Evelyn attended grad school to get a master's degree in speech pathology while Ivan was away for months at a time, training in the jungles of Central America or conducting drug-war exercises in Colombia. Between deployments they'd travel, relying on Evelyn's earnings from a part-time job teaching English as a second language - about $10,000 a year - for "fun money."
Their income grew as the years passed. Once Evelyn got her degree in 2004, she landed a job as a public school speech pathologist that paid $40,000. Ivan went to night school to finish his B.A. - a prerequisite for Officer Candidate School. He graduated in 2004 as a second lieutenant, which raised his pay to about $70,000 a year.
The couple's goals were clear: Evelyn aspired to one day open a private speech pathology clinic. Ivan wanted to stay in the military for at least 10 more years and manage rental properties as a sideline. (He started in 2006 by purchasing the house next door for $124,000.) And once Ivan returned from Iraq - he was deployed in July 2006 - they'd start having kids.
Features

These Fortune 100 employers have at least 350 openings each. What are they looking for in a new hire? More

It would be the world's second-biggest economy. See how big companies' sales stack up against GDP over the past decade. More