Beating inflation at home
Gerri Willis on how to cope with the rising cost of everything from groceries to bank fees.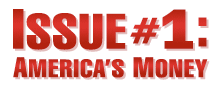 Issue #1: America's Money - Everyday on CNN
NEW YORK (CNNMoney.com) -- From a gallon of milk at the grocery store, to the price of pizza and a gallon of gas - no one knows better than you just how much prices are rising. Here are our top tips on how you can beat inflation.
1. Shop Smart
There are some things you will just have to pay more for. But it pays to comparison shop.
If you're doing your grocery shopping at just one store, you're just being held captive to their prices. Check out a few grocery stores in your area so you can take advantage of sales says Ed Dworsky of Consumerworld.org.
And don't forget, food isn't just sold at your grocery store. Sometimes your local drug store carries eggs or milk, and the prices may be much cheaper.
If you're looking to get the best price on electronics, take advantage of shopping bots like shopping.com and pricegrabber.com. These Web sites scour the web and alert you to when that item is on sale.
And of course, talking to money-savvy consumers will let you get the scoop on upcoming discounts or sales. Check out fatwallet.com and slickdeals.net.
2. Get your haggle on
It's not only about shopping smartly, but haggling is just as important to getting the best price.
In a recent survey by Consumer Reports, more than 90% of those who haggled over furniture, electronics and appliances, scored a lower price on at least one purchase during the past three years.
So, if you like an item, but it's beyond your budget, ask the merchant if they'll work with you. Make sure you research the product's cost before buying.
Print out Web pages, save flyers, or request a written quote from a competitor. Call the store and ask whether the merchant will match your best offer.
You may also want to look at the flaws of the product. You may be able to get a discount by pointing out dings or scratches. And if you can't get a discount, ask for shipping, delivery, installation, or an extended warranty at no extra charge.
3. Save at the pump
You can save mileage by using cruise control, as long as you're on a highway.
If you're an aggressive driver that accelerates quickly and brakes sharply and changes lanes often, and you decided to calm down (driving with the cruise control set to 65 mph), your fuel economy would improve an average of 35% according to Edmunds.
4. Avoid Fees
Fees are everywhere you look. It's no surprise that bank fees are on the rise, from overdraft fees to ATM surcharges.
To combat these fees, link your checking account to your savings account. And while there's not a lot you can do about ATM fees, consider a bank that has a large ATM network, or at least find a bank that has locations near where you live or work.
You may also consider joining a credit union. Credit unions generally have lower fees. And lawmakers have been scrutinizing credit card companies for rising late fees and other dubious practices.
To avoid late fees, automate your payments online. If you think you're going to be late paying a bill, you can also call the company and try to extend the deadline, or pay over the phone. If you've had a good track record, you may even be able to waive the late fee.

Gerri's Mailbox: Got questions about your money? We want to hear them! Send e-mails to
toptips@cnn.com
or
click here
- each week, we'll answer questions on CNN, Headline News and CNNMoney.com.
Features

These Fortune 100 employers have at least 350 openings each. What are they looking for in a new hire? More

It would be the world's second-biggest economy. See how big companies' sales stack up against GDP over the past decade. More