Where to put your money
With the daily deluge of unsettling economic news, you may be wondering where to put your money now.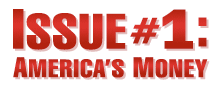 Issue #1: America's Money - Everyday on CNN
NEW YORK (CNNMoney.com) -- Here are some top tips on how to invest in a volatile market.
1. There are opportunities
It may be difficult to look at your investment statement these days. But consider that the stock market is considered a forward-looking index. That means the stock market begins to decline in anticipation or a recession and then makes gains during a recession.
From January of this year, the Dow Jones is down about 5%. And that means there's a stock sale. There are opportunities here if you have a long-term time horizon of at least 4 to 5 years. Even if you're close to retirement you should have some stocks in your portfolio. If you don't, you'll run the risk of outliving your money.
2. Think indexing
An index fund is a type of mutual fund that aims to replicate the movements of an index of a specific financial market. Since no one picks the stocks or times the market, there are lower fees.
Even active fund managers have a hard time beating the long term returns of index funds says Christine Benz of Morningstar.com. Here are some picks from Morningstar: Vanguard's total market index fund, Fidelity's Spartan total market index, and Vanguard total international stock index. You can go directly to Vanguard.com or Fidelity.com to get more information.
3. Don't play the market
Mutual funds can be a good way to get into international markets. But you want to figure out what your asset allocation should be. Your asset allocation is just how much your portfolio is dedicated to stocks, bonds and cash.
There are some calculators to help you figure out what your allocation should be at cnnmoney.com or finance.cch.com.
Whatever you do, don't try to build your portfolio based on what the market is doing now. Timing the market is something that even the pros don't get right.
Make sure you investigate management fees and the track record of the manager. Benz recommends the following mutual funds: Dodge & Cox Stock, Dodge & Cox balance fund and Long Leaf Partners.
4. Do your homework
Good CD rates are hard to find, that's for sure. But some banks may be offering teaser rates on some short-term products says Gary Shatsky of Objectiveadvice.com. Unless you can get a great rate, you don't want to lock in your money for more than a year he says. That's because the Fed, concerned about inflation, may raise rates in the later half of this year.
On a three and six month CD, you can still earn rates close to 4%. Check out bankrate.com to compare high-yield interest rates.

Gerri's Mailbox: Got questions about your money? We want to hear them! Send e-mails to
toptips@cnn.com
or
click here
- each week, we'll answer questions on CNN, Headline News and CNNMoney.com.
Features

These Fortune 100 employers have at least 350 openings each. What are they looking for in a new hire? More

It would be the world's second-biggest economy. See how big companies' sales stack up against GDP over the past decade. More