Consumers can't save the economy
Americans are too deep in debt to lead the economy into a recovery, according to a new forecast. The result: The recovery will be a bit slower.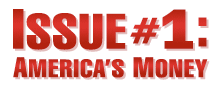 Issue #1: America's Money - Everyday on CNN
NEW YORK (CNNMoney.com) -- Consumers are too tapped out to lead the economy out of its troubles, according to a report on household credit released Wednesday.
And even after things turn around, consumers weighed down by debt won't be able to spend as they did in the past.
Americans have little money on hand and banks aren't eager to lend anymore, said Scott Hoyt, senior director of consumer economics at Moody's Economy.com, which compiled the quarterly outlook report with Equifax. Consumers had the lowest percentage of unspent cash in the first quarter of 2008 since fall 1991, the report found.
Sluggish consumer spending power means that the recovery may be a little slower and less vigorous, leaving it to corporations to spur the economy.
It will also take years for consumers to straighten out their household budgets since their debt burdens are near record highs. Americans put 14.3% of their disposable income toward debt in the first quarter, near the record 14.5% reached at the end of 2006. By comparison, the rate was 12.3% in 2000.
"Consumers just don't have the cash right now that they had a few years ago," said Hoyt, who expects the recovery to begin in the second half of 2008. "This obviously impacts their ability to spend, their confidence, their ability to service their debt and it's going to continue even as the economy recovers."
Before the 1980s, consumer spending made up about 63% of the nation's gross domestic product, a key measure of the economy. Since then, it has grown to about 70% as Americans took on more debt to fuel their buying habits.
Going forward, consumer spending will likely drift back to about 67% of GDP, Hoyt said. Americans simply can't sustain a near-zero savings rate and an ever-growing debt load.
"That's over and done with," he said.
Are you buried under a pile of debt and need help getting out? Did you recently manage to pull yourself out of debt and want to share your story? Tell us about your experience with debt and how the current credit crisis is affecting you. Send us your photos and videos, or email us to share your story.

Features

These Fortune 100 employers have at least 350 openings each. What are they looking for in a new hire? More

It would be the world's second-biggest economy. See how big companies' sales stack up against GDP over the past decade. More