A look at a music CEO's iPod
CustomChannels.net CEO John Bradley gave us a peek at his current playlist.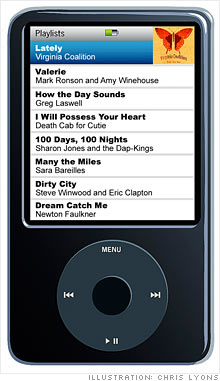 (Fortune Small Business) -- John Bradley knows radio. As the CEO of Boulder-based CustomChannels.net, he makes companies sound cool by managing their in-store playlists and creating their online music stations.
Chipotle (CMG) and Wild Oats use the service, as do broadcasters CBS Radio and Entercom (ETM).
"I love picking music. It's a great mix of art and science," says Bradley, 52, who earned his stripes by pioneering the adult alternative format at Boulder's legendary KBCO-FM.
We caught up with Bradley and got a look at his current playlist. With permission of the artists, we've linked below to streams of several of the songs.

Lately (Virginia Coalition)
Valerie (Mark Ronson and Amy Winehouse)
How the Day Sounds (Greg Laswell)
I Will Possess Your Heart (Death Cab for Cutie)
100 Days, 100 Nights (Sharon Jones and the Dap-Kings)
Many the Miles (Sara Bareilles)
Dirty City (Steve Winwood and Eric Clapton; 30-second clip)
Dream Catch Me (Newton Faulkner)

click here
.



My dream is to launch my own business someday. Now that it's time to choose a major, I'm debating if I should major in entrepreneurial studies or major in engineering to acquire a set of skills first. Is majoring in entrepreneurship a good choice?
More
- Spate, Orange, Calif.

More Small Business

Next Little Thing 2010