Wall Street pessimists cashing in
The first half of the year was bad for most stock investors, unless you opted to bet against the dollar and the consumer - and for rising inflation.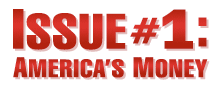 Issue #1: America's Money - Everyday on CNN
NEW YORK (CNNMoney.com) -- Golf claps for the stock market Scrooges. As a dicey first half comes to an end, the investors who fared the best were the ones who bet on the worst.
That betting pool included a prolonged bloodletting for the housing and credit markets, a weak U.S. dollar, and an ongoing surge in oil and gas prices.
"You can't look to the economy to drive stocks right now," said Len Blum, managing director at Westwood Capital. "Autos, financials and anything cyclical has been negative and the outlook is bleak. But I think you can find some gems if you look through the rubble."
A weak dollar can boost big blue chips.
That may seem far-fetched considering Thursday's market - in which the Dow lost 358 points and hit a 21-month low on rising oil prices, a weaker dollar, slumping automakers and more woes for the bank sector. (Full story).
While the 30-share Dow Jones industrial average closed at its lowest level since September 2006 Thursday, that was largely due to the two-quarter pummeling of its five financial, one automaker and two drugmaker stocks.
In the same two quarters, components Wal-Mart (WMT, Fortune 500), IBM (IBM, Fortune 500) and Caterpillar (CAT, Fortune 500) did well. So did global brands like McDonald's (MCD, Fortune 500) and Walt Disney (DIS, Fortune 500), reflecting a first-half trend that is expected to continue.
That's because companies that do a lot of business overseas benefit from a weak U.S. currency. Those firms, for the most part, will do better under the current economic circumstances than companies that are dependent on the U.S. consumer and U.S. industry, analysts say.
Haag Sherman, managing director at Salient Partners, said he's continuing to favor large U.S. corporations that derive a portion of their profits from overseas.
"The silver lining of a declining dollar is our export industries are booming and will continue to boom," he said. Sherman also noted that companies that deal with infrastructure building with a global bent, like Caterpillar, will continue to do well because of the demand from emerging markets.
Commodity stocks reflect commodity prices.
Rocketing oil prices, which Friday surged to a record $142.26 a barrel, have been reflective of a broader first-half rally in commodity prices driven by a combination of speculators and global demand.
While that was bad news for consumers and many areas of the economy in the first half - it was good news for any company in fuel-related businesses.
Of the 25 biggest S&P 500 gainers in the first half, 17 were energy - including coal firm Massey Energy (MEE), oil services company Nabors Industries (NBR) and natural gas firm EOG Resources (EOG).
Commodity prices could be volatile through the rest of the year, but the trend is generally expected to remain up. And that means those stocks are likely to continue rising in the second half.
An OPEC official said Thursday that prices could hit $170 this summer. And Goldman Sachs recently upgraded the oilfield services sector, predicting strong profit growth amid higher prices and more drilling activity.
Stealth winners
"Commodities are big for us," said Matt King, chief investment strategist at Bell Investment Advisors. "Investors need to hedge their portfolios right now against inflation."
The best-performing industries in the first half were trucking (up 50.2%), coal (up 41.5%), oil and gas (up 30%), steel (up 27.5%) and railroads (up 25.5%). But other areas held up too, such as brewers (up 16.4%) and biotech (up 9.5%).
Of the ten sectors tracked by Standard & Poor's, the best performers in the first half were energy (up 6.5%), and materials (up 3.4%). The other eight posted losses, led by financials, which fell 25.1%.
Bond insurer MBIA (MBI) was the biggest S&P 500 loser in the first half, down 73.6%.
Commodities and transportation stocks led the list of biggest S&P 500 gainers in the first half. Other advancers included Big Lots (BIG, Fortune 500) (up 102.2%), Hasbro (HAS), (up 49.5%), Wrigley (WWY, Fortune 500), (up 33.9%) and LSI Logic (LSI) (+27.5%).

Features

These Fortune 100 employers have at least 350 openings each. What are they looking for in a new hire? More

It would be the world's second-biggest economy. See how big companies' sales stack up against GDP over the past decade. More