Credit unions: Safe as a banks
Got questions about money? Gerri Willis has answers on topics from student loans to stimulus checks.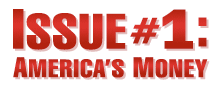 Issue #1: America's Money - Everyday on CNN
NEW YORK (CNNMoney.com) -- Gerri Willis answers reader's questions.
1. How safe are credit unions?
Is it possible to find out about credit unions? How safe are they at this time? - Willie, Florida
Credit Unions are just as safe a bet as banks are. Instead of the FDIC guarantee, you have the NCUA to back up your accounts up to the same amounts.
The NCUA stands for the National Credit Union Association. According to them, there have been six credit union failures so far this year, but as long as you have $100,000 or less in an individual account or $250,000 or less on a retirement account, you're insured. Plus, credit unions may have marginally better interest rates and rates on CDs, savings accounts and money markets.
To find a credit union in your area, go to creditunion.coop.
2. Do credit checks lower your FICO score?
I have registered with a number of temp/perm agencies all of which ask and insist on allowing them to check my credit report. I know that some inquiries to a credit report lowers the FICO score. Do these kinds of inquiries lower the FICO score also? - Elizabeth
Good news here Elizabeth. A potential employee inquiry will not lower your FICO score. If you check your own score, that won't impact your FICO score either.
While you are correct that some inquiries do impact your score. For example, if you apply for a credit card, an auto loan or a mortgage, that will lower your score. Basically anytime you seek access to more credit your score will be lowered.
3. Do lenders have to offer student loan consolidation?
Are lenders required to offer loan consolidation opportunities? My daughter has her student loans with Sallie Mae we searched their website for information regarding loan consolidation, but apparently hey do not offer it any longer. - George, NY
Lenders don't have offer consolidation loans or any particular type of loan. And your problem is a common one. A lot of lenders have stopped consolidating loans, including Sallie Mae.
For federal consolidation loans just go to the US Department of Education web site at loanconsolidation.ed.gov. You can get a consolidation loan from the Direct Loan program. For private student loan consolidation, check out finaid.org.
4. I haven't gotten my stimulus check - who do I call?
Who do we contact about stimulus checks if we have not received them? - Raj, Texas
Your first stop: www.irs.gov. There's an official stimulus report status checker online.
You can contact the IRS by phone with regards to the stimulus package by calling 866-234-2942.
Keep in mind, the last batch of stimulus checks for people who filed their tax returns by April 15 went out earlier this month.
The IRS will continue to send checks to people who got extensions to file their 2007 returns. So, if you haven't filed your return yet, make sure you do so by October 15th. After that you'll still qualify if you file your 2008 return.

Gerri's Mailbox: Got questions about your money? We want to hear them! Send e-mails to
toptips@cnn.com
or
click here
- each week, we'll answer questions on CNN, Headline News and CNNMoney.com.
Features

These Fortune 100 employers have at least 350 openings each. What are they looking for in a new hire? More

It would be the world's second-biggest economy. See how big companies' sales stack up against GDP over the past decade. More