Raw Deal: Overdraft protection
Automatic overdraft loans can look like a consumer's best friend, but they can come at a steep cost.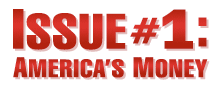 Issue #1: America's Money - Everyday on CNN
NEW YORK (CNNMoney.com) -- Terry Read transferred $400 into his wife's checking account on a Friday. Over the weekend, his wife used her debit card to make some small purchases, and on Monday she was slammed with a $35 overdraft fee because his cash transfer hadn't cleared yet.
"They took my $400 out of my account immediately of course," Read said. Since both use the same bank, hitting his wife with an overdraft fee seemed "absolutely ridiculous" to him.
Overdraft fees set in when a bank approves a transaction even if the customer doesn't have sufficient funds. The bank is essentially providing a temporary loan and charging plenty - usually between $25 and $35, no matter how big or small the transaction.
Banks typically provide overdraft protection automatically, and while it's touted as a convenience, the cost can come as a shock to unsuspecting customers.

"Banks should have to get their customers' affirmative consent before signing them up for their most expensive loans," Jean Ann Fox, director of financial services at the Consumer Federation of America said in a statement.
Almost half of all overdrafts happen with debit card purchases, according to the Center for Responsible Lending. And most debit overdrafts are small, averaging less than the overdraft fee, the consumer advocacy group said.
In a recent study, the Consumer Federation of America found that overdraft fees at the 10 largest banks are on the rise. The average highest fee charged for overdrafts is $34.65, up 15% from 2005, the consumer group said.
There can be additional fees if the overdraft is not repaid by making a sufficient deposit within a few days and customers can rack up as many as six or seven overdraft fees in one day if they aren't aware of their low balance.
Now Congress may step in.
Reps. Carolyn Maloney, D-N.Y. and Barney Frank, D-Mass., have proposed the Consumer Overdraft Protection Fair Practices Act in an attempt to protect consumers from hefty fees.
"I've been working on reducing sky-high overdraft fees for several years now," Congresswoman Maloney said in an e-mail to CNNMoney.com. "Overdraft loans can be useful financial tools, but many consumers are being enrolled in costly overdraft protection programs without their consent. [Under the bill] consumers would have to "opt-in" to overdraft protection programs and banks would be required to inform consumers when they are about to overdraw their accounts."
The bill, which is currently pending before Congress, also requires that banks provide full, written disclosure of their overdraft policies to customers.
In a statement, Citibank (C, Fortune 500) said that full disclosure is already standard practice, and overdraft fees should not be viewed as unfair or deceptive, since Citi customers are informed about the practice and the $34 overdraft fee.
What can you do?
Other banks also counter that their overdraft policies are clear and the fees are disclosed at the time an account is opened. Also, since many banks offer online banking, telephone banking and balance alerts via e-mail for free, consumers should be able to keep a careful eye on their balance.
"In most cases, banking customers can avoid overdrafting their accounts and paying any associated fee by knowing their balances," said Fred Solomon, a spokesman at PNC (PNC, Fortune 500) bank.
PNC recently sent its customers a notice allowing them to opt-out of overdraft access. "They can call PNC and we will automatically exclude them from the convenience of overdraft access for all ATM transactions and purchases," Solomon said.
Other banks will do this too, although the consumer may have to take the initiative and ask for it.
Another way to avoid costly overdraft fees is to sign up for an overdraft protection plan with a linked account. Those plans allow banking customers to link their checking account with a savings account or even their credit card. So if you write a check and there isn't enough money in your checking account to cover it, then the bank will draw the money from another account.
But that assumes that you have other funds. And despite the fact that you're backing the account with your own money, in most cases there's a charge for that service too, although it's far less than the overdraft fee. For example, Chase (JPM, Fortune 500) customers get charged $5 for each time they use their overdraft protection plan. Fifth Third Bancorp (FITB, Fortune 500) offers this service for $9 a pop. If you use the overdraft protection more than 10 times in a 12-month period, then the fee gets upped to $15.
Despite the expense, there is an upside to overdraft protection. It not only allows you to complete a transaction and remain in good standing with the parties you do business with, you also avoid the potential embarrassment of being denied at the register. That might be worth $35 to some people.


Features

These Fortune 100 employers have at least 350 openings each. What are they looking for in a new hire? More

It would be the world's second-biggest economy. See how big companies' sales stack up against GDP over the past decade. More