A cult soda brand fights for survival
One-time beverage wunderkind Jones Soda, which slashed its staff this week, continues struggling to shake off the effects of an expansion gone wrong.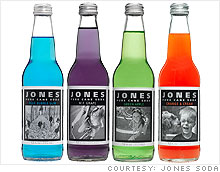 (CNNMoney.com) -- Two months after announcing a second-quarter loss and sales far short of expectations, Seattle beverage maker Jones Soda (JSDA) laid off nearly 40% of its workforce this week, cutting 42 of its 110 employees.
The 21-year-old cult soda company's struggles are a microcosm of the challenges facing small companies in a weakening U.S. economy. With consumer spending down and credit tight, any misstep becomes a potentially fatal mistake.
"Given the financial crisis we're in, you have to preserve cash," CEO Stephen Jones said. "Cutting back people is a horrible thing to go through, but you do it as a result of strategy. And my strategy is to focus on the core of what Jones Soda is."
Jones Soda, which sells carbonated soft drinks in kooky flavors such as fufu berry, brussels sprout, and bug juice, spent a decade in the late 1990s developing a profitable niche within the multibillion-dollar beverage industry. In addition to its unusual flavors, the company became known for distinctive glass bottles featuring photos sent in by the public. Sales and earnings grew steadily, and in 2006 Jones Soda reported a profit of $4.6 million on revenue of $39 million.
But in 2007 the company posted an $11.6 million loss, created largely by founder Peter van Stolk's attempted expansion into the canned-soda market. The move marked a radical departure for Jones, putting it up against behemoths Coke and Pepsi in mass-market retailers such as Target (TGT, Fortune 500) and Wal-Mart (WMT, Fortune 500). At the end of the year, Jones Soda replaced its founder with Stephen Jones, a former marketing executive at Coca-Cola (KO, Fortune 500).
Stephen Jones (his shared surname with the company is a coincidence) drafted a back-to-basics business plan intended to fix the problems that arose from the disastrous expansion. Earlier this year he optimistically projected 25% revenue growth in 2008, as Jones Soda rang in at number 76 on Fortune Small Business's list of the nation's fastest-growing small public companies.
Jones told FSB he would grow the brand more efficiently as it continued to penetrate big chain grocery stores, beefing up his company's distribution network and sales staff.
Unfortunately, those tactics - which included pushing Jones' canned soda into new markets - backfired in an already faltering economy and an industry that has seen better days.
Total sales of carbonated soft drinks have dropped for the third year in a row as consumers seek healthier drinks, according to the Beverage Marketing Corporation, a New York City consulting firm.
A changing market
"For the first time in recent history, business is declining," says John Sicher, publisher of trade magazine Beverage Digest. "Big and small companies are looking at cost-savings programs, and what Jones is doing - tightening its belt - is a smart thing to do."
The layoffs, which will eliminate 37 salespeople, will save the company $2.6 million annually - and they might not be the last of the structural squeezes. Two weeks ago, after meeting with his new advisory board - 10 CEOs of the nation's largest beverage distributors - Jones announced a revised battle plan.
"You'll see us greatly reduce the number of distributors we have," said Jones, who plans to focus on markets in which the company sees its best sales: up and down the West Coast, parts of the Midwest, New York City, and Toronto. The company will also sell to fewer big box chains, selecting retailers that are less likely to discount the price of soda.
"Cans are commodities that many retailers use as loss leaders," Jones said. "So we'll reduce the number of cans we were selling. They were draining cash."
Jones wants to take Jones Soda back to its roots. "Historically, Jones has been all about direct contact with our core customers - teenagers," he said. To reach more of them, he intends to aggressively increase the number of independent delis and pizza parlors where Jones Soda products are sold, a move reminiscent of the company's early days when its soda could only be found at under-the-radar places such as skateboarding competitions, surf shops, and tattoo parlors.
Jones also hopes to tap into a new pocket of twenty- and thirty-somethings this month when it starts selling bottles festooned with cartoon images licensed from Dark Horse Comics, the independent publisher of graphic novel series such as Hellboy and Sin City.
Recapturing its indie cred would be a savvy move for Jones. "Consumers are looking for variety, something unique in this huge market," said Gary Hemphill, managing director at the Beverage Marketing Corporation. "Growth in this industry is coming from the smaller niches of the market, where I would include Jones Soda."
But to succeed, Jones Soda will have to manage its turnaround in an economy hurling toward recession, with less cash, less staff and less maneuvering room than it had at the start of this year.
That challenge, a fight against strong economic headwinds, is a battle frustratingly familiar to many small business owners right now.

To write a note to the editor about this article,
click here
.



My dream is to launch my own business someday. Now that it's time to choose a major, I'm debating if I should major in entrepreneurial studies or major in engineering to acquire a set of skills first. Is majoring in entrepreneurship a good choice?
More
- Spate, Orange, Calif.

More Small Business

Next Little Thing 2010