Market shocks crimp small biz optimism
The past month's financial meltdown spooked small business owners, but poor sales - not credit problems - remain their top concern, a new poll finds.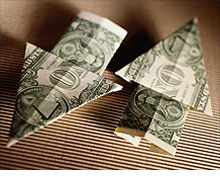 (CNNMoney.com) -- Lehman Brothers' bankruptcy and the financial markets meltdown it catalyzed blew a hole in small business owners' optimism about the economic environment, according to the latest installment of the National Federation of Independent Business' monthly survey.
September's Small Business Economic Trends report draws a distinct "before" and "after" line around Sept. 15, the day Lehman Brothers collapsed and the Dow posted its biggest percentage decline in six years. More than 700 small business owners participated in the NFIB's September poll, and among those who answered before Sept. 15, the outlook was far sunnier than it had been in recent months. In the first half of the month, the net percentage of respondents expecting business conditions to be better in six months was 20%. After Sept. 15, that total dropped to just 5%.
Plans to increase employment and for capital outlays also decreased after Sept. 15, and expectations of increased sales evaporated. Poor sales is the top problem confronting small business owners right now, according to the poll.
But despite widespread talk of a credit crisis, small companies with established borrowing histories aren't having trouble getting the loans they need, the NFIB says. In a special report on the credit market, it favorably compared the current lending environment to that of the early '80s, when obtaining financing was the number-one problem for NFIB members polled in the monthly survey.
"There clearly has been no sign of a 'credit crunch' since its existence was declared by the Fed and financial commentators," said report author William Dunkelberg, the NFIB's chief economist. "In September, only 3% said credit was their top business problem - unchanged for 20 years, including the past 12 months."
The NFIB's study only polls small business owners who report borrowing money regularly, at least once a quarter. That group is made up primarily of larger and more established small businesses, the kinds of companies with established credit lines and longstanding banking relationships.
Other national surveys with a broader lens on the small business community report starkly different findings. More than 70% of small business owners seeking loans said they're harder, according to the September edition of the Discover Small Business Watch, a monthly telephone poll conducted by research firm Rasmussen Report. Anecdotal reports abound of startups and small companies unable to get loans and credit lines from banks.
But financial industry veterans back the NFIB's assessment that credit-worthy borrowers can still get financing. What's changed, they say, is that as balance sheets deteriorate and economic shakiness makes expansion perilous, fewer small companies qualify as a good credit risk.
"The people I was giving loans to a year ago are still getting loans," said Bob Polito, senior vice president at Webster Bank, a regional lending institution in Waterbury, Conn. "There may be a little tightening in the industry, but the people I was giving loans to a year ago are still getting loans. For the people who have the ability to pay back the loan, a credit score above 670 and enough collateral to cover the debt, there are opportunities to borrow."
David Gass, president of Business Credit Services, a firm that helps small business owners establish better credit, also agrees with the NFIB's findings. The credit market has tightened, but fledgling companies - not established ones - are taking the hit, he said.
"Lending is a risk, and the businesses that have been running for less than two years are the riskiest," Gass said.
Earlier in the decade, major financiers like as Bank of America (BAC, Fortune 500) and American Express (AXP, Fortune 500) offered loan programs tailored for new companies, he recalls. But as the economic climate deteriorated, those programs shut down.
"The number of loans has gone down, because those startups have nowhere to go now," Gass said. "But nothing has really changed for the small regional banks that never had those programs in the first place, and nothing has changed for the more established businesses that were credit worthy to begin with."

To write a note to the editor about this article,
click here
.



My dream is to launch my own business someday. Now that it's time to choose a major, I'm debating if I should major in entrepreneurial studies or major in engineering to acquire a set of skills first. Is majoring in entrepreneurship a good choice?
More
- Spate, Orange, Calif.

More Small Business

Next Little Thing 2010