Has eBay hit its twilight?
With listings up but sales flat, eBay isn't yet showing any benefit from a blizzard of drastic changes made earlier this year to its e-commerce site.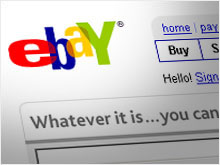 NEW YORK (CNNMoney.com) -- Ever since eBay (EBAY, Fortune 500) announced significant fee and feedback changes earlier this year, angry sellers have complained that eBay's new policies would destroy the businesses of some of its longtime merchants. This week, eBay CEO John J. Donahoe confirmed that those charges are true.
"Buyers are increasingly buying from the highest rated sellers and buying less - in fact, they have stopped buying - from lower rated sellers," Donahoe said Wednesday in a conference call with analysts following eBay's third-quarter earnings release.
Donahoe cast that shift as a positive one for eBay. "We see clear evidence that the site today is safer and easier to use than it was six months ago," he said.
If so, it hasn't yet helped the company's bottom line. While eBay met expectations for its third quarter, posting revenue up 12% from last year to $2.12 billion, most of its growth came from PayPal and Skype. EBay's core Marketplaces segment had a 1% decline from last year in "gross merchandise volume" (GMV), a closely watched sales metric.
Company executives don't see that picking up this quarter: Citing a sales slowdown across all business lines that began in mid-August and shows no signs of improving, they cut their guidance for the fourth quarter, typically eBay's strongest, and said revenue could come in lower than in any other quarter this year.
Will 2008 go down as the year eBay, one of the dot-com boom's shining success stories, began its twilight years?
"They've forgotten the base of their operation - the sellers," said Mary Jones, a PowerSeller in Kansas who has sold beads and jewelry on eBay since 2001. (Mary Jones isn't her real name; worried about reprisals from eBay for speaking out, she requested anonymity.) "It's not a fair selling venue anymore."
Like a number of longtime eBay sellers, Jones saw her profits drop off sharply this year as a flurry of new policies took effect. A new requirement that fixed-price items sell for at least $1 forced Jones to group her beads, many of which sold 25 cents, into less profitable batch lots. Then, a customer left her a negative review. EBay gives sellers no avenue to contest such feedback; the reputation ding cut Jones' discount on listing fees from 15% to 5%.
Under eBay's new system, buyer feedback significantly affects how much merchants pay for eBay's services and how prominently it displays their listings to users. Jones says that if she gets one more negative feedback rating from a buyer, she'll leave eBay for good and move to Amazon.
That's a move other merchants also seem to be making. EBay's market share went from 19% to 17% in the past two years, while Amazon's share grew from 3.7% to 5.3% percent in the same time, according to a recent research note from Morgan Stanley analysts. In Amazon's quarterly earnings call in July, CFO Thomas Szkutak said Amazon's tally of active sellers is up 18% from a year earlier.
EBay's user base is also growing: Its active user count hit 85.7 million in the third quarter, up 3% from a year ago. Listings are way up, increasing 26% from last year to 700 million in the third quarter, thanks largely to eBay's move in September to make it much cheaper to list large quantities of identical items. That's part of eBay's strategy to offer more fixed-price items on its site, which remains best known for its auctions.
But more items isn't translating to more sales: In addition to its decline in sales volume, eBay had an 18% drop this quarter in its rate of converting listings to completed sales.
"We do see buyers moving toward sellers with higher ratings. However, this has not yet translated into buyers increasing their overall purchases on eBay," Donahoe said during eBay's earnings call. "Our current GMV trend is not where we would like it to be, but we remain confident that the improvements we are making will ultimately move the needle."
The improvements may "move the needle" for eBay, but they also risk moving the seller community that built the site into an e-commerce Goliath. Announced in January and implemented in stages throughout the year, eBay's changes will take several more quarters to work their way through to the company's bottom line. But each day, more anecdotal reports pile up of vendors pulling up stakes.
Betsy Roberts used to make thousands of dollars each month from Betsy's Boots and Saddles, a Cowboy boots retailer she ran from her home in Oregon. In February, a wrangle with eBay and PayPal over a customer's fraudulent transaction left her so frustrated she shut down her eBay sales. Roberts tried out eCrater.com, a rival online marketplace, but couldn't get the same exposure she had through eBay. In the end, she donated her inventory of vintage boots to charity and went back to working as a consultant full time. She doesn't expect to ever return to eBay.
"They burned me once; they're not going to burn me again," she said.

To write a note to the editor about this article,
click here
.

My dream is to launch my own business someday. Now that it's time to choose a major, I'm debating if I should major in entrepreneurial studies or major in engineering to acquire a set of skills first. Is majoring in entrepreneurship a good choice?
More
- Spate, Orange, Calif.

More Small Business

Next Little Thing 2010