Here for the holidays: Slow sales and layoffs
A poll of small business owners finds little optimism that the economy will turn around any time soon.
Photos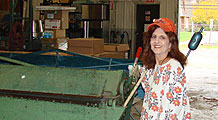 (CNNMoney.com) -- What's going well for small businesses? Not much, according to The National Federation of Independent Business' monthly Small Business Optimism Index, which fell 5.4 points in October and landed at the third-lowest reading in the history of the survey.
"We're mired in a recession," said the NFIB's chief economist, Bill Dunkelberg.
Weak sales demand was the most critical issue worrying business owners polled in October. The survey found that many respondents are liquidating inventories, holding back on expansion and laying off employees.
"Small business sales will be weak in fourth quarter, which may mean a negative Christmas," said Dunkelberg. "And that may spill over to the first quarter of 2009."
Only 5% of respondents think now is a good time to expand their facilities, the lowest reading since 1982 and the second lowest in the survey's 35-year history. The net percentage of owners reporting higher sales in the past three months fell to the worst reading the survey has ever recorded. Overall, 37% reported sales lower than they had three months ago, and 41% said their earnings have declined.
The employment picture was also grim. The average employment per firm dropped by .41 workers, and almost twice as many businesses reporting cutting employees as hiring them.
"When you hear about the layoffs, small businesses are the big picture," Dunkelberg said. "We hear about mass layoffs, but really the layoff of .41 employees per firm is a very big decline because small businesses employ so many." Small businesses with 500 or fewer workers employ about half of all private-sector workers, according to data gathered by the Small Business Administration.
On the credit front, the NFIB reports that loan demand continues to slow, and that loans are more difficult to obtain because fewer borrowers can meet banks' standards for creditworthiness. As the value of houses, buildings and other capital assets decline, fewer borrowers have the collateral they need to secure loans.
Looking forward, the number of business owners expecting the economy and sales to improve declined significantly since September. The employment picture is also growing darker: In the next three months, 9% of those polled plan to create jobs while 15% anticipate layoffs. The NFIB sees just one silver lining: Businesses are becoming desensitized to bad news.
"We noticed for the first time in recent history, the October 8th Fed rate cuts didn't spur small business owner pessimism," Dunkelberg said. "Maybe that means we've hit the bottom and it's not possible to be more pessimistic."

click here
.



My dream is to launch my own business someday. Now that it's time to choose a major, I'm debating if I should major in entrepreneurial studies or major in engineering to acquire a set of skills first. Is majoring in entrepreneurship a good choice?
More
- Spate, Orange, Calif.

More Small Business

Next Little Thing 2010