A cult BBQ brand stages a comeback
After selling its secret sauce, then buying it back, a family business lays plans to go national.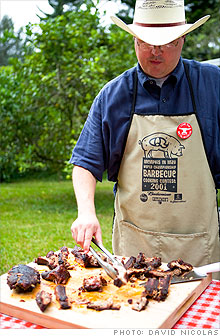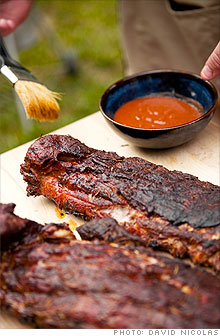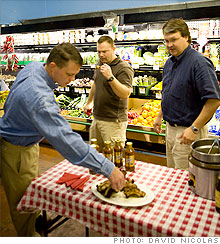 BOCA RATON, FLA. (Fortune Small Business) -- A sixth-generation Texan, Alen Smith had dreamed of finding that gusher of liquid gold that would make him a legend. And he did - in a pot of barbecue sauce bubbling on his aunt's stove.
An investment banker by trade and an opportunist by nature, Smith took the secret family recipe, bottled it and boldly named it Texas Best. For three years, he carted cases of the sauce around in the back of his station wagon, ladling out samples for shoppers and chefs in stores and restaurants all over the South. By 1978, Smith's sauce had won fans from Miami to Boston. Later that year, when food conglomerate Romanoff International offered him a seven-figure check for his tiny business, Smith cashed out.
Almost as soon as the ink was dry on the contract, he regretted his decision. "I was a damned fool," he says.
Now he's getting a second chance to run his sauce business. Smith, 66, and his son Reed, 38, recently negotiated a deal to buy back Texas Best from T. Marzetti in Columbus, Ohio, the company that had acquired the sauce from the Smiths' original buyer in the early 1990s. Marzetti specializes in salad dressings; barbecue sauce was a novelty product for the firm. Neglected, Texas Best's sales dried up. The brand was taken off the market in 2006. Still, a small group of loyal fans were eager to see it back in stores.
"Thank God for your comeback," Tony Lopez, an insurance salesman in Norwalk, Conn., wrote to the Smiths in June. "We've been waiting desperately."
In the next few months, Reed and his dad plan to relaunch the brand nationally in supermarkets and specialty stores. Although the Smiths are cagey about numbers, they're planning on putting several hundred thousand dollars into the campaign. They've found a Louisiana manufacturer to undertake the time-consuming task of making the sauce. (Unlike many commercial sauces, which are mixed cold and bottled, Texas Best requires a long, slow-cooking process.)
In May, Reed made a pilgrimage - with three grills, 10 cases of sauce and a truckload of meat - to the World Championship of Barbecue in Memphis, known among barbecue aficionados as the Superbowl of Swine. There the Smiths announced their return. A month later they started selling sauce online. Sales have been relatively brisk: 100 cases a month on average.
Still, father and son face daunting challenges. Competition among condiments is fierce, and the market is shrinking after years of growth. (Barbecue sauce sales were off 3% in 2007, according to Information Resources in Chicago.)
In the late 1990s, Marzetti changed the recipe to cut costs and boost appeal to consumers seeking a sweeter sauce; Texas Best lost a significant portion of its loyal following. Perhaps most worrisome, neither Smith has any serious retail food business experience. Alen, semiretired in Boca Raton, Fla., has been battling health problems since a difficult surgery this past spring. Reed lives in Tampa, where he is a furnituremaker. While his father acts as the public face of the new Texas Best, Reed will manage the day-to-day business.
"I'll take it slow and learn as I go," he says hopefully.
To help resurrect this family business, Fortune Small Business recruited three experts. The first is Scott Lazar, CEO of Chicago snack-food seller Reserve Brands, who is on hand to offer tips on the relaunch. He meets with Reed at a hotel conference room in West Palm Beach. Housebound with a knee injury, Alen listens in by phone.
Lazar, 40, begins by bluntly assessing the odds of successfully launching a national brand in a tough market. He warns the Smiths: "Supermarkets stock as many as 20 different brands of sauce now, and the category is dominated by big companies like Kraft (KFT, Fortune 500). You don't have the resources to compete directly against the big guys." Sure, Texas Best has some vocal fans. "But for the most part, the market has forgotten you," Lazar says candidly. Indeed, in 2006, its last year on store shelves, Texas Best sales were $254,000, down from $1.7 million in its peak year, 1995.
Lazar urges the Smiths to ditch their national launch plans. Instead, they should focus on reintroducing the sauce to regional supermarket chains and specialty stores in former stronghold markets such as the South and Northeast.
"Rebuilding your brand store by store is probably the best way to do this without going bankrupt," he says. Texas Best might be a good candidate for club-store chains such as Costco (COST, Fortune 500), Sam's and BJ's (BJ, Fortune 500). Club stores typically entice shoppers by offering novelty items that are available only for a short time. That should enhance the appeal of a new premium product like Texas Best, which is priced at $3.99 a bottle, more than double the top-selling supermarket sauces.
Another advantage: Competitors will be scarcer in club stores, which tend to stock fewer brands than supermarkets. Several specialty food firms, such as Stacy's, a $60-million-a-year snack-food maker recently acquired by PepsiCo (PEP, Fortune 500), have succeeded in building national brands with a strategy that included club stores, Lazar points out.
Club stores also give shoppers the opportunity to sample new foods as they navigate the aisles. "Getting people to taste your sauce should be a cornerstone of your marketing strategy," Lazar says.
Reed brightens, pointing out that his dad originally promoted Texas Best by offering shoppers free samples, one generous ladle at a time. "In the old days, you could set up a card table and dole out food," Lazar cautions. Nowadays, with food-safety laws, you have to be licensed to offer samples. This makes demos expensive -$200 per store. But they've been shown to immediately boost sales from 300% to 500%.
To cut the cost of store tastings, Texas Best should seek a partner, ideally a meat company or a cracker manufacturer with a well-known regional or national brand. "Small brands look bigger paired with a strong brand," Lazar says. "And, to be practical, you need something to carry the sauce."
He also urges the Smiths to enter their sauce in national barbecue contests and other competitive tasting events. "Winning would be a huge boost for your brand," he says.
To help the Smiths maximize the impact of their Web site, John Lawlor, 63, meets them at another hotel conference room - this one in Boca Raton, Fla. Lawlor is an online strategist and the CEO of Social Media Coaching Club in Boca Raton.
"Your Web site is attractive but lost in space," he says. "I couldn't find you."


Ask a Question

My dream is to launch my own business someday. Now that it's time to choose a major, I'm debating if I should major in entrepreneurial studies or major in engineering to acquire a set of skills first. Is majoring in entrepreneurship a good choice?
More
- Spate, Orange, Calif.

More Small Business

Next Little Thing 2010